Every year the Ottawa Redblacks bring in a number of players to play a variety of roles for the team. In 2014 they brought in quarterback Joey Elliott. He was signed mid-way through the season to replace injured quarterback Thomas Demarco but he ended up doing more than filling the hole on the depth chart. After half of a season on the Redblacks' roster, Elliott was looked at as a scout for the team, covering the Midwest region. 

His football journey had a lot of stops before getting to Ottawa, starting at Purdue University. With the Boilermakers Elliott kick started his football career, getting playing time in his senior season where he earned a spot on the famous list of Purdue quarterbacks. "It's an honor to be on that list. I grew up watching Kyle Orton and Drew Brees. Going in and competing at Purdue I really learned a lot about hard work and dedication."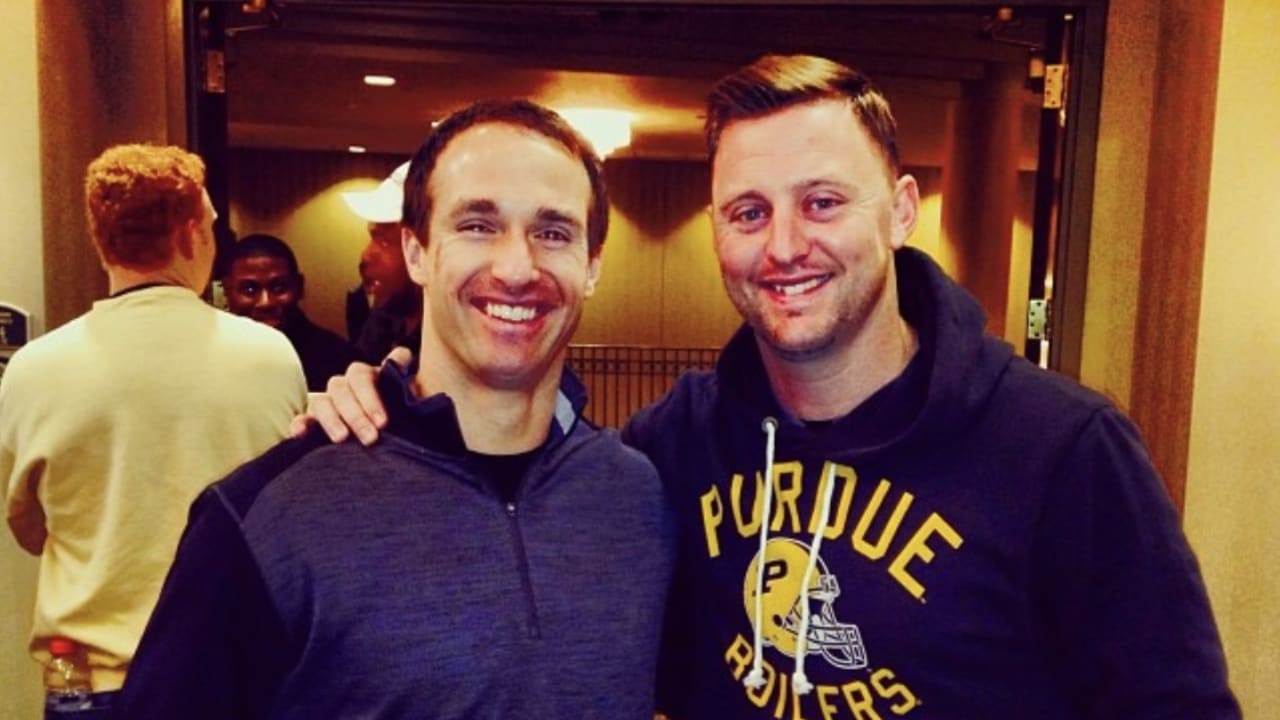 Elliott didn't have the opportunity to play with Brees at Purdue but being put into the same category of Purdue quarterbacks he has had the chance to meet the star quarterback he says, "Drew is a very unique individual. Everything you see online about him is exactly who he is…He's a great human, great father, a great leader and he always gives back. He gives his phone number to everyone and does a good job to help guide the younger guys into success."
Since Elliott only started the one year in University he wasn't given a lot of NFL looks and only got one small chance in the league, in 2010 with the Philadelphia Eagles. "I was only there for a couple days. It was a cup of coffee in the NFL really but I had some cool experiences." In the time he spent there he was in the same quarterback room as Michael Vick, "Vick is one of the best athletes I've ever seen and he can pick up and excel at anything." He tells a short story, "I went golfing with him actually. It was one of his first times going on the course and we played 9 holes. On 9 he scored in the mid 60s, which got him pretty annoyed so he ended up going to a range to hit balls and practice a little. The next week we went out again and he shot like a 52. He dropped almost 12 strokes by just going to the range once. That is impressive."
With that being his only NFL opportunity, learning from future hall of fame coach Andy Reid and having that chance to be with Michael Vick he made the most of it, using that experience to help with his future. That future being in the CFL.
He moved to Canada midway through the 2010 CFL season where he ended up on the Winnipeg Blue Bombers. Being coached by current Redblack Paul LaPolice he comments, "I actually had just got off a flight from training with Drew Brees and Aaron Rodgers when I was called so it wasn't expected at all but after we got all of the paperwork sorted out, it was a really cool experience… I got to play 2 games at the end of that rookie year and then more in the next couple of years so overall the time I had there in Winnipeg was great." 
With the Blue Bombers he appeared in over 20 games, throwing nearly 400 passes for a total of 2,634 yards and 7 touchdowns through the three seasons. He then made his way to other teams, the BC Lions first but most importantly got in with the Ottawa Redblacks.
After a short lived opportunity with the Lions the previous season, the Ottawa Redblacks were happy to bring in Joey Elliott to backup Henry Burris for the remainder of the 2014 season while Thomas Demarco sat on the 6-game injured list. Him being a backup quarterback on that roster wasn't their only thoughts when they brought Elliott in actually. He played a role on that team to help the younger quarterbacks. To explain, he says, "When I was signed by Ottawa they told me that I was there to backup Burris and if they made a run for the playoffs I might get to play but then they also approached the idea of developing the young talent they had. I spent a lot of time with them (younger quarterbacks on the team) after meetings and practices. Reviewed game plans, and made sure they had all of their checks in balance. I really tried to help accelerate the game for them and help them get better which I wish I had when I was a rookie in the league."
Watching what he had done with both Danny O'Brien and Alex Carder that year and the success he had in developing the two quarterbacks, the Ottawa Redblacks' front office wanted to have Elliott return to the team but with a new role, "My contract was up after the one year and in my exit meeting with the team they asked me if I would be interested in taking a coaching or scouting job the next year. I said yes and a few months later they brought in Jason Maas to originally coach the quarterbacks which I would've done and then they offered me a job as a scout for the team." says Elliott, "That transition was a different experience for me. Going from player to scout first, you see the game differently but then the feedback is much different. As a quarterback, after every pass you're given feedback by a coach but as a scout, you're watching film, taking notes all day and there's barely any feedback. There are some when you get talking more but it's much different than being a player. Overall seeing where I am now, it ended up working out great."
Almost after a full year as a part of the Redblacks' scouting department a job opened up in Indianapolis, in a heartbeat he took the job in a heartbeat. "As a kid from Indiana, it was a blessing to have this opportunity come to me. Jim Irsay has done a great job in building such a great organization that has such high standards and the love of football that he has is awesome. I am beyond blessed to be a part of his team."
Now that Elliott has seen all levels of the game, and made his way from the Redblacks to the Colts he looks back at what helped him get there.
"If I were to give anyone credit from helping me get where I am today it would be my wife. Through my career as a player and now a scout, she has had a lot of faith in me. I learned in my career that you believe in your abilities until your phone stops ringing and as a free agent you're just waiting. When my phone stopped ringing before I've gone through long lengths of time just waiting and of course my wife has always been there… She really did a great job of keeping me positive during my career, being my backbone and supporting me. Challenging me to do more. When I look back at it all, I can't thank her enough for helping me get to where I am now with the Colts."
Getting to where he is now, a part of the Indianapolis Colts organization, Joey Elliott is a pro scout, a role in which he overlooks all professional leagues and takes notes on potential Colts players. Over the years, the Redblacks have seen a number of players go the NFL route, most successfully, Diontae Spencer and Brett Maher and maybe if a player on the Redblacks' does well and opens eyes of NFL player personnel, Elliott might bring it to the attention of the Colts.
For more stories on former and current Ottawa Redblacks players like Joey Elliott, checkout https://lilzbigr.blog/