As we get closer to the month of June, things are starting to feel different. Redblacks training camp was supposed to open just last week but due to the coronavirus, our first look at the new roster has been delayed.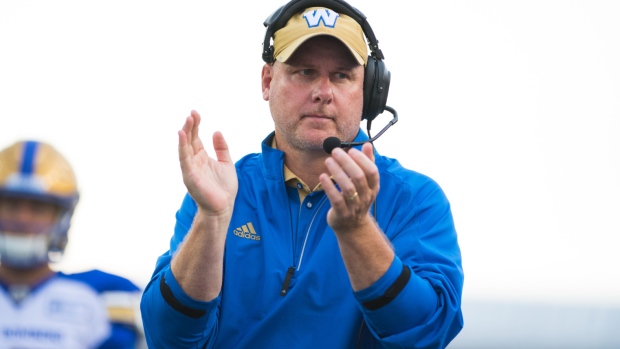 With all of the changes made this off-season, the Ottawa Redblacks have a whole new look in the 2020 season which looks to be in September. A part of that new look is both head coach and quarterback Paul LaPolice and Nick Arbuckle. The two have yet to be on the same practice field together but there's a lot of excitement around the coach + quarterback duo.
Former Blue Bomber and Redblacks' quarterback Joey Elliott is also excited about the duo, "I hope they turn things around." Elliott, who is now a scout for the Indianapolis Colts says, "Coach LaPolice's system will help them with what they do. His system is simple and effective and their young quarterback will pick it up and succeed like past quarterbacks"
In the time Elliott spent in the CFL he was fortunate to be a quarterback in LaPolice's system. When asked about it he mentions, "He's evolved from his time in Saskatchewan and Winnipeg, does a great job in getting players in a position to succeed. He has a great opportunity in Ottawa and I'm really happy for him and excited to see what he does with the Redblascks."
Yes, we should be getting ready for the first pre-season game this weekend but while the CFL looks into different ways they can possibly play the games as early as September Redblacks fans should be really excited to see this Arbuckle-LaPo duo. In the 2019 CFL season, Arbuckle threw for 2,103 yards and 11 touchdowns in 7 starts at the same time LaPolice helped Winnipeg to 11-7 and a Grey Cup Championship. His quarterbacks, Streveler, Nichols and Collaros threw for a total 3,721 yards and 20 touchdowns while having Strevceler run for over 700 yards. With Arbuckle showing what he can do with his legs in his time last year, LaPolice could like using Arbuckle in a similar role as Streveler next year. 
Also in the 2019 season, LaPolice's receiving core saw 5 receivers go for 500-plus yards while the Redblacks had just 3 over that marker.
All in all, the 2020 season should be much different than the 2019 season with Paul LaPolice in charge. His stats show a lot and with Arbuckle, and the skill position players the Redblacks have going into next season there are a lot of reasons to be excited for Ottawa Redblacks fans.