Here in the city of Ottawa, we've been blessed to have some great coaches who are really aiming to better the futures of young football players. There may not be a lot of coaches like this in the city, though we are starting to see more and more as the days go by and I believe it all goes back to the coaches that have started the tradition, a few in the modern era would be both Coach Jean Guillaume of St Matthews, but one that has been in the city a little longer would be Victor Tedondo. Tedondo has been coaching athletes since he can remember, and he's been coaching athletes with a purpose, to make them great athletes, but also to make them great human beings and students. Talking to Victor about what he's done, starting Gridiron Academy, coaching NCAFA and just recently launching Uplift 613 he said, "I had a vision when I first started, and I've stuck to it." and continued, "I coach football players in the gym and on the field a lot and sure I want the best for their football careers, whether its going division one or CIS or even some guys to go professionally but that doesn't mean I don't help them off the field too. I've been a big supporter of school and life skills and I make sure to coach and teach the athletes to be the best versions of themselves off of the field and outside of the gym as well." Coaching players and teaching them to be the best they can be is something that Victor Tedondo has been able to do, and with help from his wife Charmaine he's had a lot of success doing just that. He is now at a point in his coaching career where he is starting to see players go the NFL and CFL route, starting with one of the first athletes he trained in Eli Ankou who is now with the Dallas Cowboys and there looks to be a lot more players in the near future with similar opportunities as Ankou. One player that is among the players that could have an opportunity like Ankou, and one that should be looked at is 11th grade defensive lineman Elijah St John.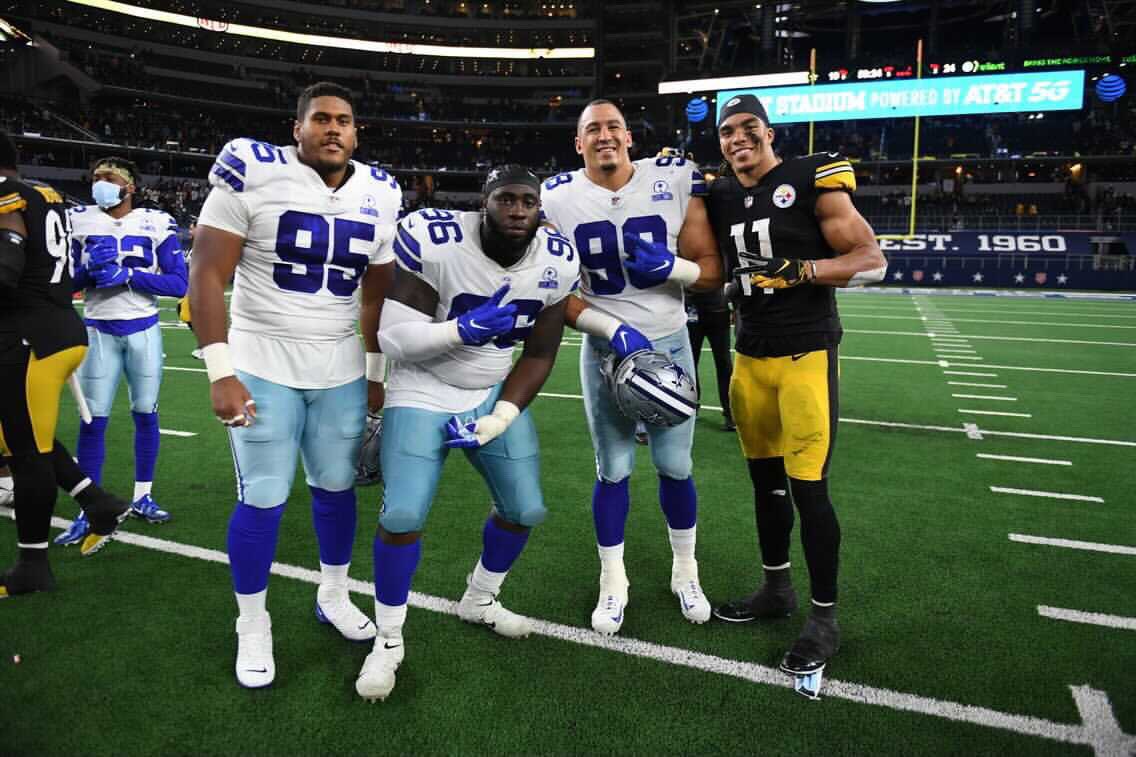 Though St John may not be 6-foot-3, 325 pounds and with the Dallas Cowboys like Eli Ankou is, he does deserve some kind of recognition. At 6-foot-3, 244 pounds St John is one of the fastest defensive linemen in the city of Ottawa and one of the most athletic as well. When talking to his coach, Tedondo about Elijah he had said, "He's and extremely good athlete. There is no doubting that the talent is there, his speed is all natural and he was born with a lot, he was really given a gift athletically," but Tedondo had also said, "He just hasn't fulfilled the full talent that he has. If he does he will be a very scary player though." Tedondo has coached Elijah and known him since he was young and if you would ask him he knows him more than any other coach and Tedondo has had his fair share of defensive linemen over the last while and the ones that have had success have all caught Elijah's eyes and some have also helped him as a football player. Elijah St John told me in an interview, "For watching film, or just watching football, I don't just watch what everyone else watches, I watch the players from Ottawa. Guys like Neville Gallimore, Eli Ankou, Kiki Mesidor and Rene Konga are guys I either watch film on or watch in person." The players named, for the most part have been able to help Elijah and other football players in Ottawa, whether you train with Victor Tedondo at Gridiron Academy or not you would know what exactly the culture is like in Ottawa for football. The players give back to the city once they make it and its really great to see, it has been something that has helped Elijah and will continue to help, because it is truly the domino effect.
The domino effect in Ottawa, the players continuously giving back in the community, whether it's through charities which we've seen a lot or even coaching which is more popular, seems to affect a lot of people in a positive way. When talking about the players he watches or in this case the players that coach him, Elijah St John had mentioned, "Its really cool to see that (Eli Ankou) he is from exactly where I am and when he comes and coaches it is really awesome because he is where I want to be in the future and I can ask him things and it really helps me as a player for my future."
As for his future, Elijah St John wants to play football at the highest level possible, and the next step for him would be university which he hopes to go on scholarship for, "The ability to have schooling all paid for by the University or College is a dream for sure. It would take a lot of stress away from my parents and I hope to be able to accomplish that through football." It may seem easy when you see a lot of people achieve the goal of getting a division one scholarship, though its really hard and it will be hard for Elijah to go through that process. Victor Tedondo commented, "Its tough to go to the NCAA, if he wants to do it he's got to have a work ethic to do so, and you really have to work nonstop. For Elijah he already has natural talent which is great, but if he can build on his work ethic he can be a scary player on the field." A scary player on the field is everything a coach at the next level could ask for, and Elijah in the small opportunities he's had, he's been able to show exactly what kind of player he is and what kind of player he can be. In Ottawa, Elijah has played in NCAFA with both the Nepean Redskins and the Myers Riders, with the Riders he was able to be coached by Scott Boxall who has also been the coach of the eastern Ontario OPC team in past years. He has also played with the Ottawa Sooners in OPFL and most recently with his high school Mother Teresa all while training with Victor at Gridiron Academy. Playing football since he was young, he's always been a great athlete, really being a star player on both sides of the ball on offense and on defense, a reason why today he can be so dominate on the defensive line, "I played running back," said Elijah, "I have played a lot of different positions in football and it's fun getting to know different positions and it makes me better and more understanding of the game too."
Being more understanding of the game of football is awesome to see and its very important in the game of football to have a good I.Q, for Elijah being able to understand that is great for himself and the future he may have in football. When talking to CFL defensive stud Christophe Mulumba about playing different positions on the field and the importance of football I.Q he states, "If you play other positions, you are going to have an advantage on others, let alone if you played on the other side of the ball. You will know more about what goes through the head of one on the offensive side and that will make you smarter as a football player, you will be able to read plays quicker and if you can read plays and you are on the defensive line, you are a game changer." A game changer indeed, Mulumba's point is 100% correct and versatile players like St John are becoming more and more popular in football and versatile players are always fun to watch. In the NFL you have guys like Hasaan Reddick or Khalil Mack who are edge rushers with tons of speed, and now on the come up is Elijah St John.