Ever since the Ottawa Redblacks let running back William Powell walk in the 2018/2019 CFL free agency period to go to the Saskatchewan Roughriders the team has been searching for their next 1,000 yard rusher. In the 2019 season they had Mossis Madu, Greg Morris and Brendan Gillanders returning from 2018 and John Crockett coming in from the NFL. Over the span of 18 games in 2019 the running back committee combined for 1,062 yards on 226 carries, averaging 4.7 yards per carry and just under 60 yards a game which isn't bad however without a touchdown scored by a running back all season it was clear that the Redblacks needed help at the position.
To start the long 2020-2021 CFL off-season, the Ottawa Redblacks re-signed Ottawa native Brendan Gillanders, released Canadian running back Greg Morris and CFL/NFL veteran running back Mossis Madu announced his retirement. If there had been a 2020 CFL season John Crockett would have been under contract for it however he became a free agent after the season was cancelled and his contract expired, leaving it to just Brendan Gillanders as the only returning running back.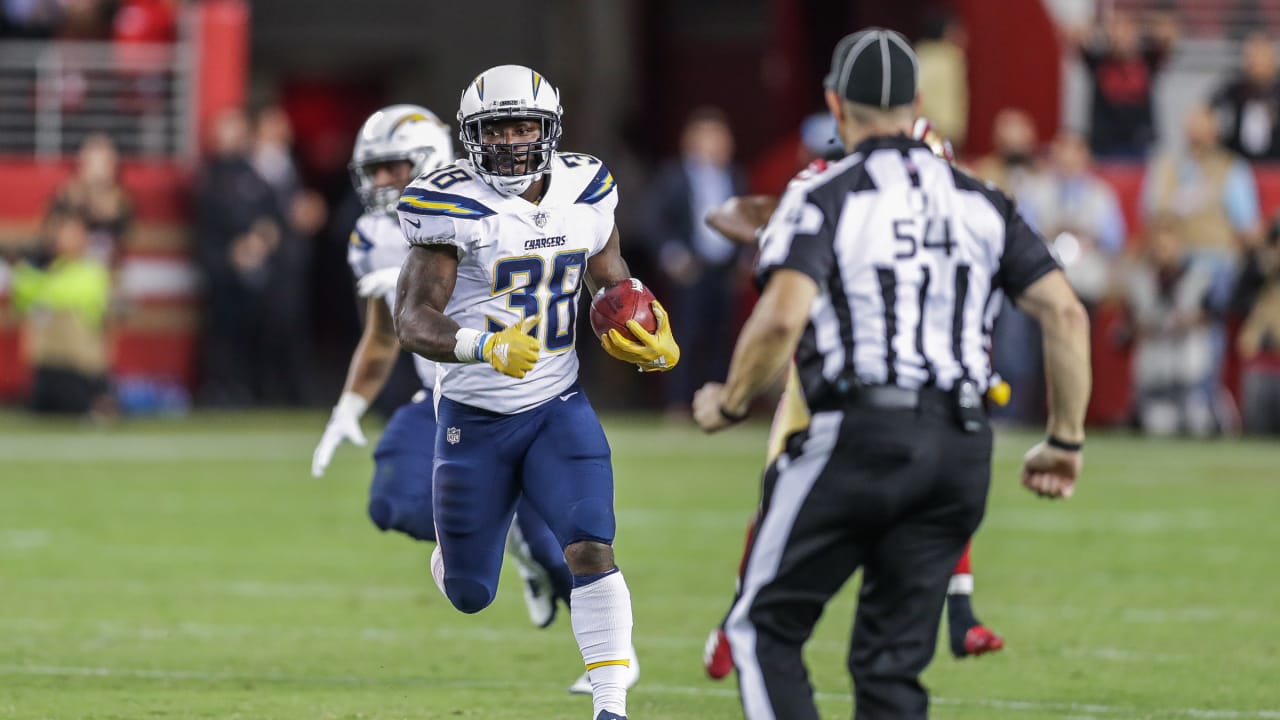 Outside of Gillanders the Ottawa Redblacks signed free agent running backs Timothy Flanders, Akeem Hunt and Detrez Newsome to come to CFL training camp. The group of four makes it extremely hard for the coaching staff to decide who will start week one of the 2021 CFL season. With the NFL experience behind both Detrez Newsome and Akeem Hunt, there is no questioning that they can play at the highest level of football. Newsome, a Raeford, North Carolina native played his collegiate ball at Western Carolina University where he ran for 3,728 yards and 37 touchdowns in 43 games. He then was signed by the Los Angeles Chargers where he found himself for the next two NFL seasons. Over the span of the two seasons with the Chargers Detrez Newsome played in 8 pre-season games, having touched the ball 74 times, gaining an all-purpose 303 yards (206 rushing, 97 receiving) and 3 touchdowns. After having an outstanding 2018 NFL pre-season he played in 9 regular season games where he rushed the ball 11 times for 49 yards and caught two passes for 19 yards. He gained 5 first downs and made two special teams tackles, showcasing his abilities in the NFL and now has the opportunity to do so in the CFL with the Ottawa Redblacks.
Akeem Hunt, like Detrez Newsome has had his success in the NFL. Playing with the New York Giants, Baltimore Ravens, Houston Texans, Kansas City Chiefs and Tennessee Titans, Hunt was able to return kicks and play a versatile role on offence, running the ball and catching the ball. Over 3 seasons and 30 regular season games in the NFL from 2015 to 2017 he returned 35 kicks for 824 yards, ran 45 times for 228 yards and caught 13 passes for 99 yards, combining for an all-purpose 1,151 yards on 93 touches. He ended up averaging 12.3 yards per touch before getting signed and playing in the AAF with the Orlando Apollos and the Tennessee Titans for the 2019 NFL pre-season. In the AAF he touched the rock 42 times, gaining an offensive total 234 yards and scoring both a touchdown and two point conversion in 8 games as a feature back. Then in his pre-season opportunity with the Titans, the last time he played football he played in 3 games, gaining 55 yards on 13 offensive touches. Hunt is expected to battle for the Ottawa Redblacks' starting running back spot with Timothy Flanders who also spent some time in the NFL prior to his CFL career where he has familiarity with head coach Paul LaPolice and quarterback Matt Nichols.
Timothy Flanders, ahead of Hunt, Newsome and Gillanders could be the favourite to be the Redblacks' starting running back because of the success he had under LaPolice and in the same backfield as Matt Nichols, but the only downside with Timothy Flanders, Akeem Hunt and Detrez Newsome is the lack of recent film. Gillanders, out of all of the running backs has the most recent film, having suited up the last game that the Ottawa Redblacks played on November 1st at TD Place against the Montreal Alouettes, both Akeem Hunt and Detrez Newsome haven't played since the 2019 NFL pre-season and Flanders hasn't played a game since 2018, only having a quick stint with the Calgary Stampeders in the 2019 CFL season but Timothy Flanders has had the most film and the most success over his professional career at running back. Starting his CFL career in 2015 after his time with both the New Orleans Saints and Cleveland Browns as an undrafted free agent out of Sam Houston State. He played his first CFL game with the B.C Lions, rushing for 15 yards on 3 carries, then made his way to Winnipeg where he made a name for himself early on as a backup to future hall of famer Andrew Harris.
In 3 starts in 2016 when Harris wasn't in the lineup Flanders filled in, running for 262 yards on 42 carries, and catching 15 of 17 targets for 145 yards combining for 407 yards and two scores on 57 touches, gaining over 100 all-purpose yards per start and averaging over 135 yards per game. He then served as a backup to Andrew Harris for the next two seasons, starting every few games that Harris was out for, having played in a total 18 games with the Blue Bombers, touching the ball 150 times, gaining 1,058 yards and scoring 7 touchdowns. Flanders averaged 58.7 yards per game over his time with LaPolice and Matt Nichols, averaging 7.05 yards per touch and eventhough it has been well over two years since he stepped foot on a CFL field for a regular season game he has the chance to bring that exact energy to the Ottawa Redblacks offence.
The three running backs described, Timothy Flanders, Akeem Hunt and Detrez Newsome will be battling for the starting running back role for the Ottawa Redblacks come July 10th when the CFL training camp is expected to begin so those are all names that should be known by Redblacks fans going into training camp along with Brendan Gillanders if they don't know the name already. Hometown kid Brendan Gillanders, who grew up in Ottawa, played for the University of Ottawa and has been with the Toronto Argonauts and Ottawa Redblacks in the CFL since 2014. Over his CFL career, in 92 games he has had 94 offensive touches for a total 590 yards of offence, averaging 6.2 yards per touch. In the season opener of the 2017 CFL season Gillanders ran for 80 yards on 12 carries and to close the 2019 season, in the last 4 games he had 154 yards on 25 offensive touches, including 45 yards on 6 in the second last game of the season at Toronto. Brendan Gillanders is going to be making the Ottawa Redblacks roster, like usual he will play a large role on the team's special teams units and will be able to touch the ball on offence with fellow Canadian Anthony Coombs who could be found in the backfield as well here and there as a versatile slot back.
While the Ottawa Redblacks' may have some trouble finding their next 1,000 yard rusher like they had in William Powell from 2015 to 2018, it is clear that they have some great candidates in house in players like Timothy Flanders, Akeem Hunt, Detrez Newsome and Brendan Gillanders. They had the opportunity to bring in some key free agents like James Wilder Jr, Shaquille Cooper or John White but didn't, making it an even larger reason why people should keep all eyes on the running backs that the Ottawa Redblacks have in house.