This CFL off-season has been very different due to the on-going spread of the coronavirus. The coronavirus (Covid-19) has forced a lot of things to be different this year, such as the draft, training camps, season games, and as we look more into it the Grey Cup will look different as well.
Eventhough a lot may be different than past years, there is still a lot that will be the same. Every year, CFL teams have the opportunity to sign free agents in different periods of time. Starting with the all-year round free agent signings, who are just available at the time, then the free agency period where they have the chance to sign players who's contracted have gone up, the CFL un-drafted signing period for players that didn't get drafted in the CFL draft and then there is the NFL un-drafted period in which teams have the chance to get hands on players who've gone un-signed following the NFL draft and are still available to CFL teams. All of these signing periods have gone normally this year and un-interupted and we are now a part of the NFL un-drafted period.
Each off-season teams get players that have went un-drafted, in past years the Redblacks have been able to sign big name players like Sherrod Baltimore, Jonathan Rose, Dominique Rhymes and most recently DeVonte Dedmon. With the NFL draft being nearly a month past us, who ever is still available and un-signed should be able to take the CFL route, who could be the next Jonathan Rose or Dominique Rhymes? Check out the following players…
QBs Kelly Bryant and Shane Buechele
In the 2017 NCAAF season, these two quarterbacks were at the top of their game. Bryant was at 5th ranked Clemson and Buechele was with the Longhorns who at the time were ranked 23rd in the country and now they both have gone un-drafted and un-signed a full month after.
The two quarterbacks are without a doubt the best available at the moment and if a CFL team could get a hold of one of them they could be future stars in the league. On he stats side, Bryant has thrown for north of 5,000 yards and 31 TDs in the starting seasons between both Clemson and Missouri while Buechele, split over 8,000 yards and 62 TDs with both Texas and SMU within 3 seasons as a starting quarterback. Of the two, Kelly Bryant is by far the better running quarterback. Stats show that he's rushed for well over 1,000 yards in his college career, getting a career high 665 yards and 11 touchdowns in 2017 while Buechele doesn't even have 500 yards in his college career.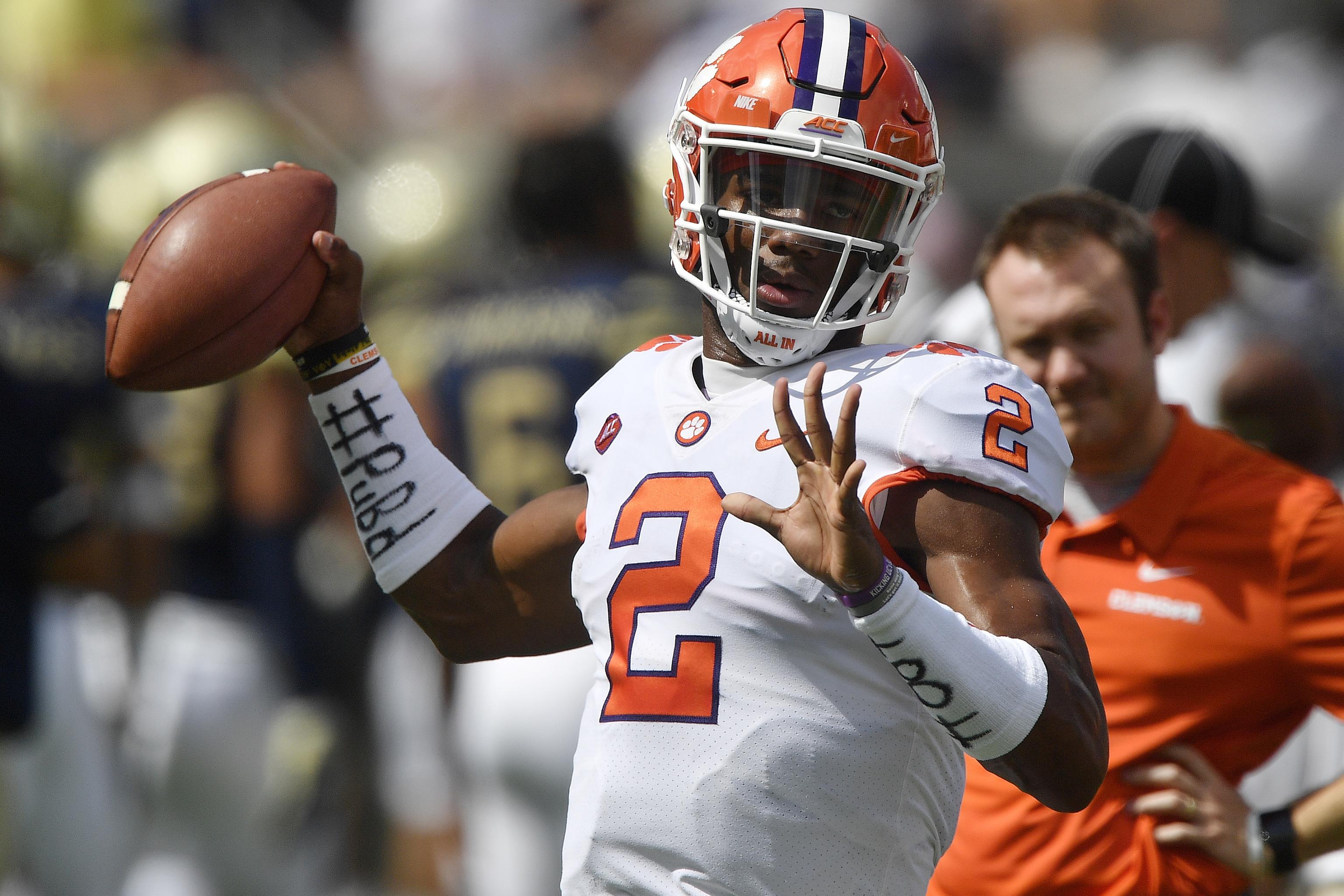 Once again, both of these quarterbacks are still available to NFL and CFL teams. They might be signed to an NFL team to play a role as a camp arm but if they were to be offered a CFL contract they have the opportunity to be a future starting QB in the league.
Hasise Dubois WR, Virgina
In this year's NFL Draft the receivers group was very deep. Going from Henry Ruggs, Jerry Jeudy and Ceedee Lamb to Denzel Mims the receivers in the draft were very talented and many went un-drafted as well. One being Hasise Dubois, who had the 30th most receiving yards last year with 1,062 yards and 6 touchdowns. It was a shocker that the 6-foot-3 target hadn't been drafted even with him beating out first rounder Henry Ruggs and second rounders Mims and Claypool in yards.
The Redblacks have found success in the past with big body receivers like Rhymes, and Ellingson so if they were to sign Dubois he could be a future all-star in the CFL.
Riley Stapleton WR, JMU
Standing tall at 6-foot-5 Stapleton has shown off through the past three seasons at JMU, most recently getting 788 receiving yards and 10 touchdowns on 65 catches. With those totals he was able to get more yards than top prospects Ruggs, Hill, Callaway, Reagor and Thaddeus Moss. Although the opposing talent isn't quite the same, he's been able to put up big numbers in the CAA and given that the Redblacks and the CFL in general have a lot of players coming from there he might follow.
Along with his senior year, Riley Stapleton has had two other spectacular seasons, putting up north of 600 yards in both of them while catching 12 more touchdown passes on 103 receptions. The three seasons in total give him 168 catches, 2,099 yards and 22 TDs.
Donavan Hale WR, Indiana
Indiana runs a pass first offense, in the 2019-20 season they had one thousand yard receiver and 3 with over 500 yards and then they even had Donavan Hale who had nearly 400 yards. Hale, a 6-foot-4 target didn't have the primary role in the offense but he was always there as a reliable target against big time defenses.
As mentioned, the Hooisers offense had a lot of targets, leaving Hale as an after thought but against those big time defenses that were ranked in the country he had a career 30 receptions against going for 378 yards and 2 touchdowns. With the looks at those numbers and him having over 1,000 career receiving yards at Indiana he's shown that he can play at the next level and with him going un-signed he could find himself in the CFL in a year or so.
Reggie Corbin RB, Illinois
Corbin is fast, agile, explosive and an all around running back. In past years, Redblacks' coach has liked having versatile backs on his roster like Andrew Harris, Demski and Flanders, with the team already bringing in Flanders, having Corbin on the team also could benefit in major ways. The all-star runner fro Illinois measures at 5'10 200 lbs but has been able to move the ball for his team in the past years. Over the span of his career in University he's rushed for north of 2,300 yards, most recently rushing for over 650.
In 2019 he rushed for 675 yards on 143 carries but as you look into his profile even deeper he rushed for nearly twice as many yards with 15 less carries. As a junior in the 2018 season he rushed for 1,085 yards on 128 carries, with an average 8.5 yards a carry.
As seen in the tape above, Corbin is a quick runner, if he were to have a CFL comparison it would be Don Jackson from Hamilton, but he has a chance to be even better. Stay tuned to see where he falls to.
Juwan Washington RB, SDSU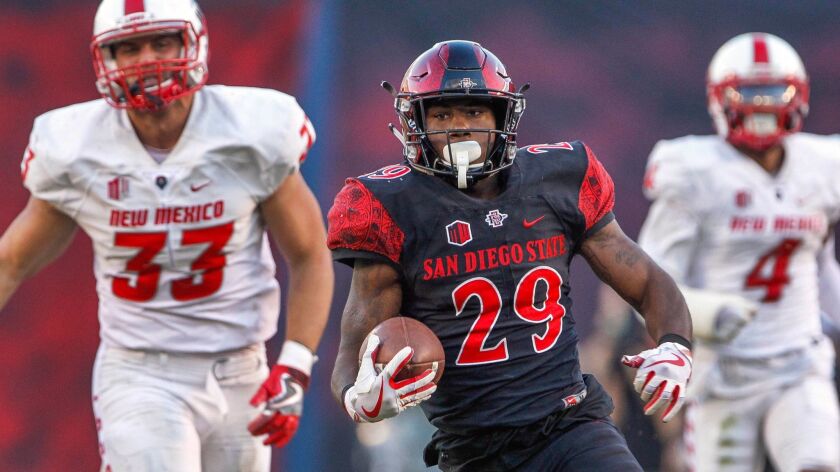 Similar to Corbin, Juwan Washington could be compared to Don Jackson and plays a good role as a versatile running back. Washington, coming out of San Diego State has a career 2,500 rushing yards and 24 touchdowns. Last year he rushed for an exact 500 yards but in his junior year in 2018 he rushed for one yard short of one thousand with 999 yards.
In that junior year he showed off, playing his best football and even ran well against the best opponents, running all over the 13th ranked Stanford (in 2018) with a career high 158 yards on 24 carries.
Sage Lewis LB, FIU
Coming out of Florida International, Lewis could've been one of the best linebackers available in the draft. If it hadn't been for him not playing in the big games against bigger schools he could have been looked at to be picked early in the draft. At FIU he was able to make a total 307 tackles, 2 sacks, 4 fumbles, 3 interceptions and 13 knockdowns.
He didn't get in all he prime time games, but the one he played against Miami in 2018 was a show. He flew across the field to make 9 tackles, leading the team. The nine tackles made against Miami in 2018 were to go with his career high 132 tackles that year. Its safe to say that he played his best football in 2018 and it was tough for him to match it the next season where he got 93 tackles.
He may have had 39 less tackles in 2019 than he did in 2018 but he was able to show more of what he was about as a linebacker. Getting one sack, 4 fumbles, 3 sacks and even 3 pass breakups. The CFL is a great league to welcome Sage Lewis, and if he can do what he did at FIU up north it will be easy to find him for NFL scouts.
Patrick Nelson S, SMU
With the SMU Mustangs, safety Patrick Nelson was able to do everything he possibly can to help his team win games. He played his normal role as a safety and got a career 3 interceptions, but he went over and above playing different roles.
In his senior year, many would think the stats he was putting up were mistaken for a defensive lineman. Lining up at safety, many would've even thought Nelson looked like Troy Polamalu going out and sacking the quarterback a total 12.5 times.
His 12.5 sacks later added towards his career totals of 283 tackles, 15 sacs, 3 interceptions, 6 passes defended and 2 fumble recoveries. Looking at his numbers, you'd wonder why he didn't get drafted. Sure he's not playing against Joe Burrow and Trevor Lawernce back to back games like other guys but his talent is there and he's got a bright future ahead of him. With comparisons of Jovon Johnson in him, his future may lead towards the CFL, will it be the Ottawa Redblacks? Stay tuned.
Best of the rest…
WR Diondre Overton, WR Deddrick Thoamas, RB Kennedy McKoy, RB Moe Neal, QB Tom Flacco, QB Blake Barnett, LB David Woodward, LB John Daka, DB Damon Hayes, DB David Dowell