Throughout recent years we as football fans have seen the game grow before our eyes. Players are getting smarter, faster, bigger, better and even on top of that the coaching is improving a lot as well. These are all things that are shown all on levels from youth to pro and the city of Ottawa has seen it all first hand. The city has been the home of a lot of world class athletes, specifically in football where you can find several division one and professional student athletes like Maine's Katley Joseph, Indiana's Kervens Bonhomme, West Virginia's Akheem Mesidor, Penn State's Jesse Luketa, as well as the Dallas Cowboys' duo Neville Gallimore and Eli Ankou but as we see the game continue to grow we are now starting to see more players who will be at those (division 1, NFL) stages in the near future, one being defensive back/safety Shakespeare Louis.
Shakespeare Louis, although he is listed as a defensive back/safety he has the ability to play everywhere on the defensive side of the ball. The 6-foot 205 pound Robert Morris commit has proven himself to be an all around star player on every defense he's played on, his mentor Coach Jean Guillaume comments, "He is the most complete defensive player out there. He can play everywhere. I remember having him at linebacker, free safety, strong safety, defensive back, halfback, nickel and the best part about him is that not only is he the hardest hitter on the teams he's on but he can also go into coverage." Having praise from someone of the stature of Coach Jean Guillaume is a big deal, the well known coach and mentor has coached several division one athletes, though for Shakespeare to get to this point he's had to overcome a lot both on and off the field.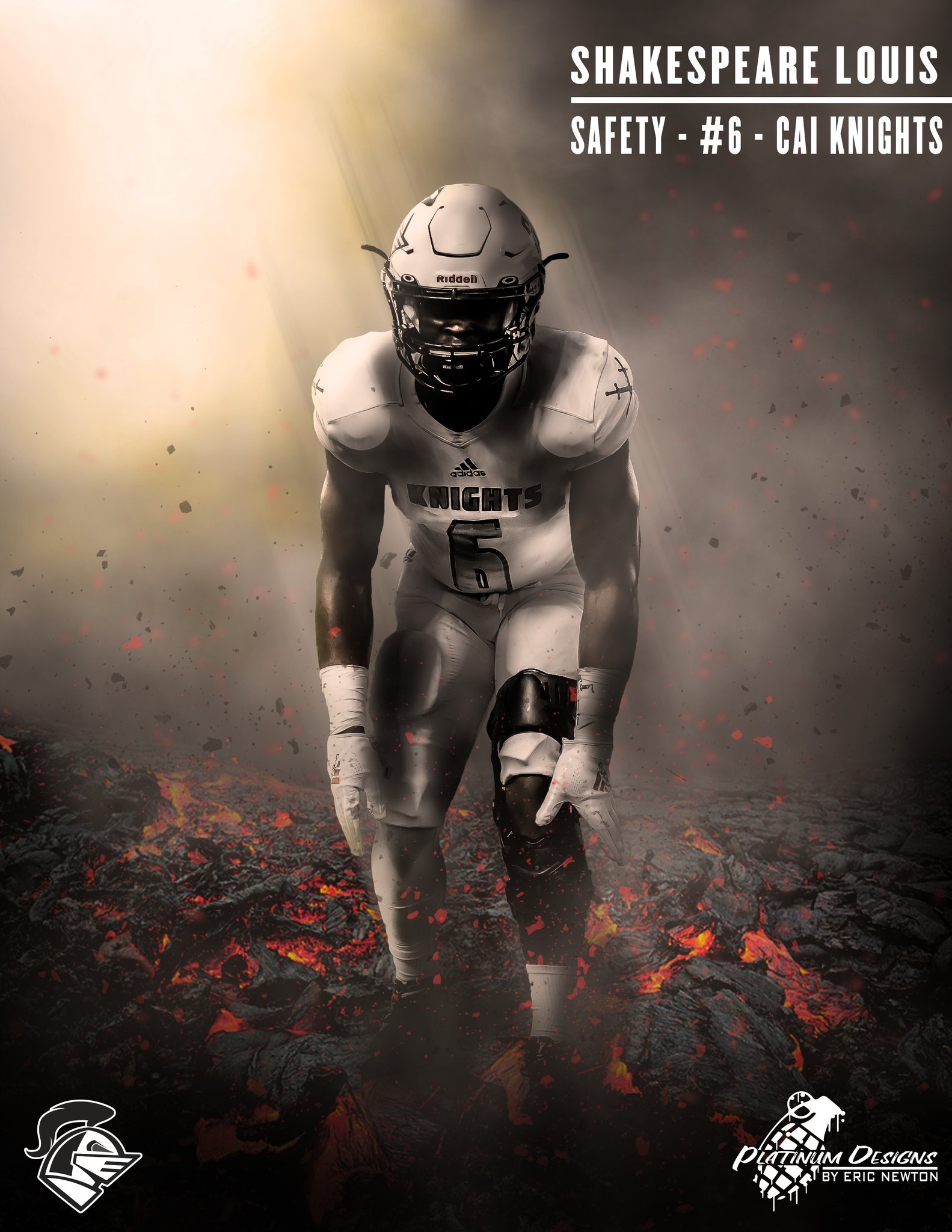 In 2010 and at the age of 9 years old the Haiti native was moved out of his home country due to a brutal earthquake that had turned the country upside down. Though he had to move out of Haiti, a country where he'd been raised by his grandmother, it wasn't the end of the world for him. He was able to reunite with his parents in Ottawa, Canada who had already started to create opportunities for himself and his older sister. One of the opportunities that he and his family wanted when they moved to North America was a post secondary degree. Being in Canada and with opportunities in front of him now, Shakespeare Louis was determined to go to a post secondary school and at the age of 15 he may have found the perfect way to do it. In 2013, while going to school at Alain Fortin Elementary in Orleans, a suburb in the Ottawa area he was introduced to the game of football and the idea of playing it. Louis comments, "When I was about 13, I moved to Orleans and I went to school with Christian Velliuex (Now Penn State commit/signee) and we played football at recess a lot. He told me to play football, at the time my mom didn't want me to but two years later (2015) she let me play." In just his first ever football season that he played in 2015, he was given an opportunity of a lifetime. While still learning about the game of football and all of the basics within it he was given the chance to play with some of the best in the city.
The 2015 Cumberland Panther Peewee NCAFA team that he suited up with had a total of 5 other future division one athletes on the team, along with Shakespeare Louis there was Christian Vellieux (Penn State), Kenny Mestidor (UCLA), Wesley Bailey (Rutgers), Darius Mackenzie (Maine), and Fabrice Mukendi who just signed to Bryant University. Without a doubt he was surrounded by talent in his first season playing football and it only helped him have success throughout his younger years playing football in Ottawa.
After the great learning experience in 2015 with the Cumberland Panthers, Shakespeare was able to continue his football journey in high school at Collège Catholique Mer Bleue in 2017 and then in 2018 with the Junior University of Ottawa Gee Gees in the Ontario Provincial Football League. When talking about the time he spent with the Junior Gee Gees Louis had said, "It was great. It was my first real football experience where I was able to play against some good talent around the city and in the province while also having my work shown to others and build my name as a football player." Helping build his name as a football player, Shakespeare transferred to Saint Matthews Catholic High School in Orleans where he was set to play football for the well known Coach Jean Guillaume.
Unfortunately though, due to the Ottawa High School Student Athletics rules he was eligible to play the 2018 football season for the St Matthews Tigers, although that wasn't a red light for himself and his football journey. Even though he wasn't able to suit up and play on the team that season, the 2018 school year was a great year for him both athletically and academically. "It was a good environment for me. It helped me in school to learn more english as I was coming from a french school and as for football the grind didn't stop, if anything that's when it started. Meeting Coach Jean was a blessing and he helped me become the player I am today." That 2018 season, sitting out and getting better in school and on the field was a huge part to the reason why Shakespeare Louis is now a division one player at the University of Robert Morris and that season was also the only year that he had spent at St Matthews High School before going to school in Florida at Clearwater Academy international. "I remember telling Shakes (Shakespeare) about Clearwater when he came to St Matts and when he was training with us because at the time Kervens was there and so was Akheem who had both been from St Matts so showing him that it's reachable and that he can get there too if he works hard enough was good. To see him work his way into it and have the opportunity was great because the type of person he is, all he needs is the opportunity and he is going to make the most of it." Says St Matthews Head Coach Jean Sorphia Guillaume.
As you look deeper into Shakespeare Louis' time in Florida and you watch the film he has from the 2019 and 2020 seasons you can tell that everything that Jean Guillaume had said was right, all he needed was the opportunity. The first season in Florida, like most things was nerve wracking, "The very first game I played, I remember the first half I was so nervous because all of training camp I was told that I was going to be playing against the best and with the best and it being my first game you don't want to make any mistakes. The second half though, I had an interception returned for a touchdown which settled myself down and gave me the understanding that I can play with Florida talent." That first game, having a pick six only made the rest of the season feel even bigger from then on and Louis was to make sure every game counted like it was his last, he finished the 2019 season with 53 total tackles and 4 interceptions. The Clearwater Knights had gone 8-2 on the season and Shakespeare Louis was looking to finish what he had started in Florida, he says, "That first year was great and all but I wasn't where I wanted to be. I played good but not good enough. Finishing the season I had no offers and come signing day I had nowhere to go, then go through with the signing period I received just one division 3 offer. The offer gave me hope and showed that people are interested in me but I still wanted to prove myself." To be able to prove himself to be the best, he went on to reclass into the 2021 recruiting class. This gave him another season to play at Clearwater Academy and finish what he started, though it didn't come easy, "I spent all of the (Covid-19) quarantine grinding. I spent every day getting ready and making sure I am the best player I can be. I know a lot of people that might have used this as an example of why they aren't where they should be athletically but I made sure to not make Covid(-19 pandemic) an excuse on why I don't play division one." Shakespeare Louis continued, "When I got to Florida I had been a better athlete than I ever had been before but in training camp I thought it may have been all for nothing."
In the 2020 training camp at Clearwater Academy Shakespeare had sprained his MCL which could take up to a few months to heal fully, though having the mindset he did for this 2020 football season he made sure to still play a few games. This was among multiple things that Robert Morris defensive coordinator Dave Plungas pointed out in Shakespeare Louis, "He is super tough. He's got that exact mindset that you want in a player and on top of that he is both mentally and physically tough." He said, "This season he had a knee injury and it could have easily sidelined him for the season but he didn't let that happen. He played a few games with a brace on and we liked what we saw out of him even with that brace." With all of that being said, the Robert Morris Signee was able to play in 5 of the season's 9 games with the Clearwater Knights, putting up numbers as if he played the full season with 32 tackles, 2 interceptions as well as 2 touchdowns. Sure the numbers look great and its even better that he was able to do it in just 5 games, though stats don't exactly matter in High School football its more of what the film says, "As coaches in the next level we aren't necessarily looking at the stats, and we don't just watch highlight tapes with all of the flashy plays that you make, we make sure to watch the game film and we want to see what you do throughout the game." Said coach Dave Plungas of Robert Morris, "When I watch Shakespeare's film I'm blown away, I mean sure he makes those big plays to go on his highlight tapes but he's always around the ball and that's something that you simply cannot teach. He shows on the game film that he can attack the ball from sideline to sideline and that is something we look for in safeties and defensive backs, its just another reason to be excited to have him on our team."
Excited to have him at Robert Morris, Dave Plungas will be getting a complete player and Sports Illustrated All American writer John Garcia Jr says the exact same thing, "He's a hybrid player. He played a lot of defensive back and did a lot of coverage at CAI this year and last year but he has the ability to do a lot. When you look at him he looks like a linebacker and he uses his size to play across the board, he can go into coverage and play safety and defensive back but he also can be a linebacker, he has great potential at nickel."
Like Plungas, many call Louis a ball hawk but he's much more than just that. When asked about his game Shakespeare had mentioned, "Growing up the way I learnt football was through YouTube videos and then applying what I saw on those highlight tapes on the field. One of the players I watched a lot of highlights of was Sean Taylor so I've kind of modelled my game after him as well as some newer NFL guys like Budda Baker because of the way he can hit someone and go into coverage and even Jamal Adams for his ability to blitz which I can do as well." Not only does Shakespeare talk about his abilities himself but coaches back it up as well his coach and mentor Jean Guillaume from St Matthews in Ottawa had also said, "Shakespeare is one of the best players I've coached. He is very coachable and that is not something you can teach, he can play wherever you need him to play and unlike others he does good in all of the positions."
All in all, this Robert Morris commit has got to be one of the best defensive players in his age group here in Ottawa and generally in Canada. His film shows nothing but great things about his play on the field but as important as that is he also has a perfect mindset to go through with his future. Dave Plungas praises his mindset on and off the field, "This year because of Covid everything we did during recruiting was virtual and we did several meetings with Shakespeare, his coaches and his family as well. Just getting to know him more as a person was very important and just from talking to him and those closest to him a few times it was proven that he is mentally tough and he has a mindset where all he needs is a chance. In high school he made the most of the opportunities he had and we can see him being a great player at the next level because of his work on the field and the mindset he has towards football." To top it off Jean Guillaume had also said, "He is a power 5 player. He can play with the best in the country 100% and I think that all he needs is one chance to prove that and now that he has this opportunity at Robert Morris he is going to prove that right."
Proving himself as a top player out there, Shakespere will be starting his post-secondary football career in June of 2021 where he will begin his first ever training camp at the University of Robert Morris following their 2021 spring season ending in April. When talking about the opportunity Louis commented, "I'm very excited. Not just for the chance to play at the division one level but to be able to show what I'm all about. I want to show all of the schools that didn't offer me what I'm all about."
There it is for you, Shakespeare Louis, among the best players from the city of Ottawa. Remember the name as he will soon be a big name at the next level. It's not everyday that you see a defensive back with as much of a hard hitting ability, the ability to blitz and also as good in coverage as he is. These types of players only come around once and a while and Robert Morris is lucky to have him a part of their program, "They got a steal out of Shakes (Shakespeare)" Said Jean Guillaume, "Everyone you talk to they say it too, he is a power 5 player and he's going to show it for them."