At approximately 10:00 PM Eastern time on Tuesday, Congolese-born, Ottawa-raised pass rusher Alain Cimankinda got a call that changed his life. Sitting around family members, good friends and a group of people that had an impact on his life from the beginning to today Cimankinda was drafted by the Saskatchewan Roughriders in the 2021 CFL Draft.
Just minutes after receiving the call he showed his excitement in an interview, "I'm stoked!" he said, "I've spoken with the staff there and I love their organization, I love what they're about. They have an amazing fan base, amazing city and an amazing province. I'm excited to get out there and be in a position where I can zone in and focus on football and my life."
Being drafted 35th overall in the 2021 CFL Draft, Cimankinda is being looked at as the steal of the draft. At 6-foot-1, 245 pounds in just 23 games over the span of 3 seasons at the University of Guelph prior to transferring to the Carleton Ravens he made 16.5 sacks, only two and a half shy of now Winnipeg Blue Bombers' head coach Mike O'Shea's U-Sports record of 19 sacks. Running a 4.90 40 yard dash, 4.37 20 yard shuttle and a 1.67 second 10-yard split according to PurpleShift in his 2021 CFL virtual combine that he performed with Iseah Montgiraud of Limitless Era, Cimankinda not only was one of the best defensive linemen on game film in this year's draft but also athletically. He now goes alongside Roughriders draft picks Nelson Lokombo, Terrell Jana, Bruno Labelle, Logan Bandy and Matt Watson, playing with other defensive linemen A.C Leonard, Micah Johnson, Makana Henry, Charbel Dabire, Chad Geter and Freddie Bishop, providing depth right away and a potential star with the Riders losing CFL sack leader Charleston Hughes in free agency. When asked about the kind of player Alain Cimankinda is for the Saskatchewan Roughriders, Cimankinda's longtime mentor Coach Jean Guillaume of Ottawa had said, "He's a player that is going to go on the field for Saskatchewan and take care of business."
Guillaume, who helped Alain and his brothers through the recruiting process and everything in between is talked about as a football parent in the Cimankinda household. Cimankinda was able to share the moment with Coach Jean on Tuesday as well as a number of his family members, making the most of the opportunity of being home. He said with a smile, "It was amazing to be with my family for this moment. When you look at my journey, the last 7 or 8 years I have been away from home so to provide this experience with my family was amazing." He then when asked about who he first thought of when he got the phone call from the Saskatchewan Roughriders continued, "Coach Jean. He's been a part of my journey from the start and has really been my parent for all things football so I'm happy to now reward his hard work with me making it pro."
One thing that Alain has learnt over the span of his football career, from Jean Guillaume as well as his family is the importance of giving back. When he was playing football as a kid in Ottawa the organization which he played for, the Bel Air Lions allowed him to play for free because he was unable to pay the registration fee. Small things like that and the help he received from teammates and coaches have stuck with Alain, and he plans on paying it forward in Saskatchewan like he has in the city of Ottawa, kick starting some things off of the football field with the Sauce Life Royalty mentorship program to go side by side of the El Saucy name brand which he's been growing for years. Cimankinda said, "I'm ready to get out there as soon as possible and be in the community, be with the staff and be a part of anything I can get my hands on."
Being a part of anything he can be is something Alain Cimankinda has been doing his whole life, impacting a number of people around him everywhere he's been. From the NCAFA and OVFL playing days, all the way through his CEGEP, JUCO and U-Sport experiences to the CFL at least one teammate was left with a positive impact from Alain Cimankinda both on and off of the football field. It is something that many players and coaches have recognized for years and it has made Alain a player that everyone wants to have around their team because with Alain everyone improves, and he looks to bring that same impact to Saskatchewan to Riderville. Already in the working mindset just minutes after being drafted Alain commented in an interview, "The first thing I'm going to do is get hands on game film. I am going to start game planning for the CFL, learn more about how the CFL guys play, how they block and then as soon as I hit the ground I'm going to hit the ground running."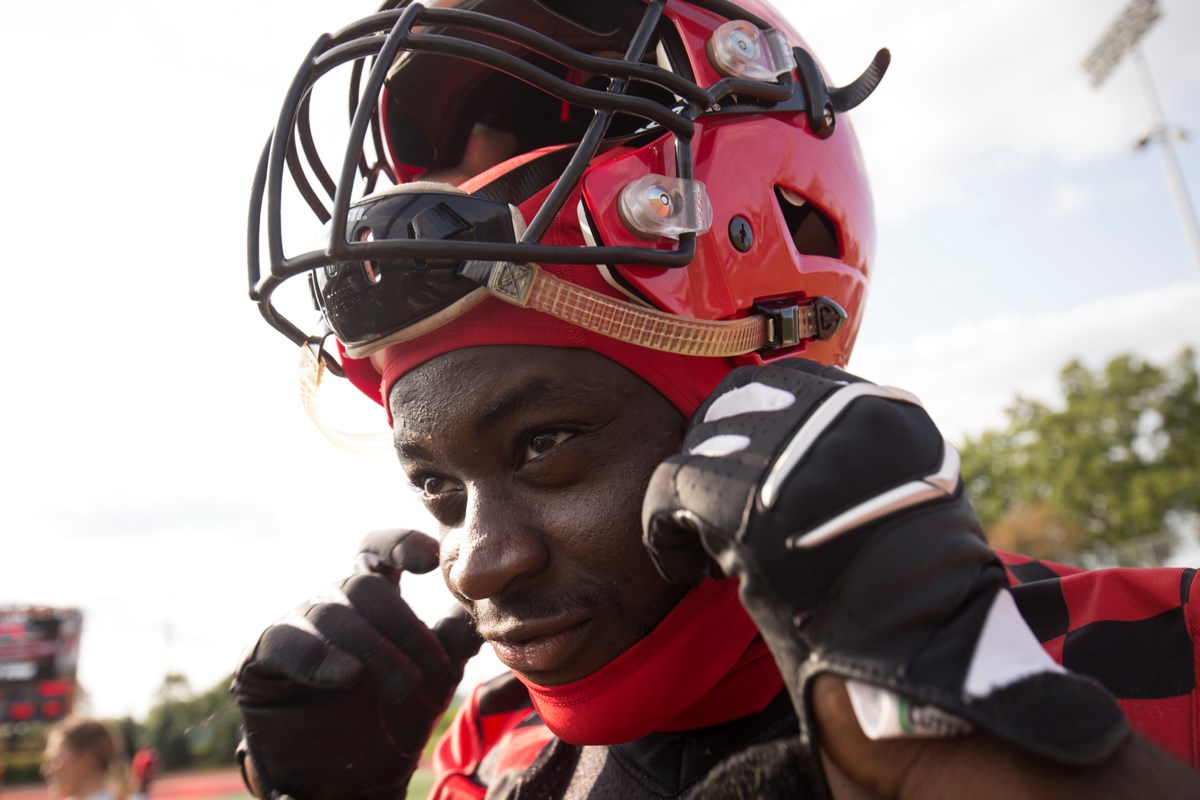 Quickness off the line, speed, strength, and power are all things that Alain demonstrates very well on the football field but his work ethic is second to none off the field and his leadership makes everyone around him better. He told me in my interview with him after the draft, "when I was a kid I made it a goal of mine to make it as a pro. I stuck to the grind and I made it here." and just hearing that from him makes you think about how big this opportunity is for someone like Alain Cimankinda who went through so much adversity to get to this point, it is clear that the Saskatchewan Roughriders were right about this pick and the other eight teams will be kicking themselves that they didn't pick Cimankinda in the near future.