The city of Ottawa has always been a hotspot for talent. We've always seen people come out of Ottawa and be successful in a number of different fields, though it is only recently that we've seen success happen through the game of football. Sports has been a big thing for not only the city of Ottawa but the country of Canada for some time now, there has been a lot of buzz surrounding hockey, lacrosse, soccer, basketball and even baseball but as time starts to go by the game of football is continuing to evolve into something larger than life in Canada, most specifically in Ottawa. Over just the span of 5 years we have seen exactly what some had talked about come to fruition. Canada will never be as high up in the game of football as the United States and Canadian athletes have grown to respect that, though they haven't come to peace with the fact that Canadian athletes aren't given the same amount of opportunity as Americans. Players across the United States are given the most exposure in the world, getting talked about in the media and having scouts at games from the division one level is just a regular week for most athletes in states like Florida, Texas, Louisiana or California, but is something that athletes in Ottawa dream of. Thanks to players like Eli Ankou, Neville Gallimore, Alex Mateas and even players from the past like Jesse Palmer who have set the tone for Ottawa athletes, the city has been recognized a little more over the last while for the football being played in it, though the best is yet to come. The city is continuously getting looked at more and more for the football being played in Ottawa, from the youth football to the Ottawa Redblacks at the professional level, everything is being looked at and is improving daily. A great example of that is Ottawa's very own Alain Cimankinda. 
Alain Cimankinda is likely one of the best athletes that the city of Ottawa has seen over the past few years. He has shown it at every stage of football, from youth football all the way to the University level and come spring Cimankinda will be able to begin his professional career, showcasing his talent at the CFL level though it wasn't easy for him to get to this point. To become a professional athlete and a very successful person off of the field Cimankinda has had to go through a lot of adversity and moving forward with his football career he hopes to show the world that if he can be where he is today, as a professional athlete, you can tackle your own obstacles as well. Doing so, Alain Cimankinda has teamed up with a group of sports enthusiasts and content creators in Ottawa to work on his very own documentary series. The documentary series will document what he's gone through to get to where he is today, his prep for the CFL Draft this spring as well as a day in the life style documentary where Cimankinda's audience will have the chance to see what the star defensive lineman does off of the field, his trainings, what he eats on a daily basis, his entrepreneurial life and the people that he talks to the most.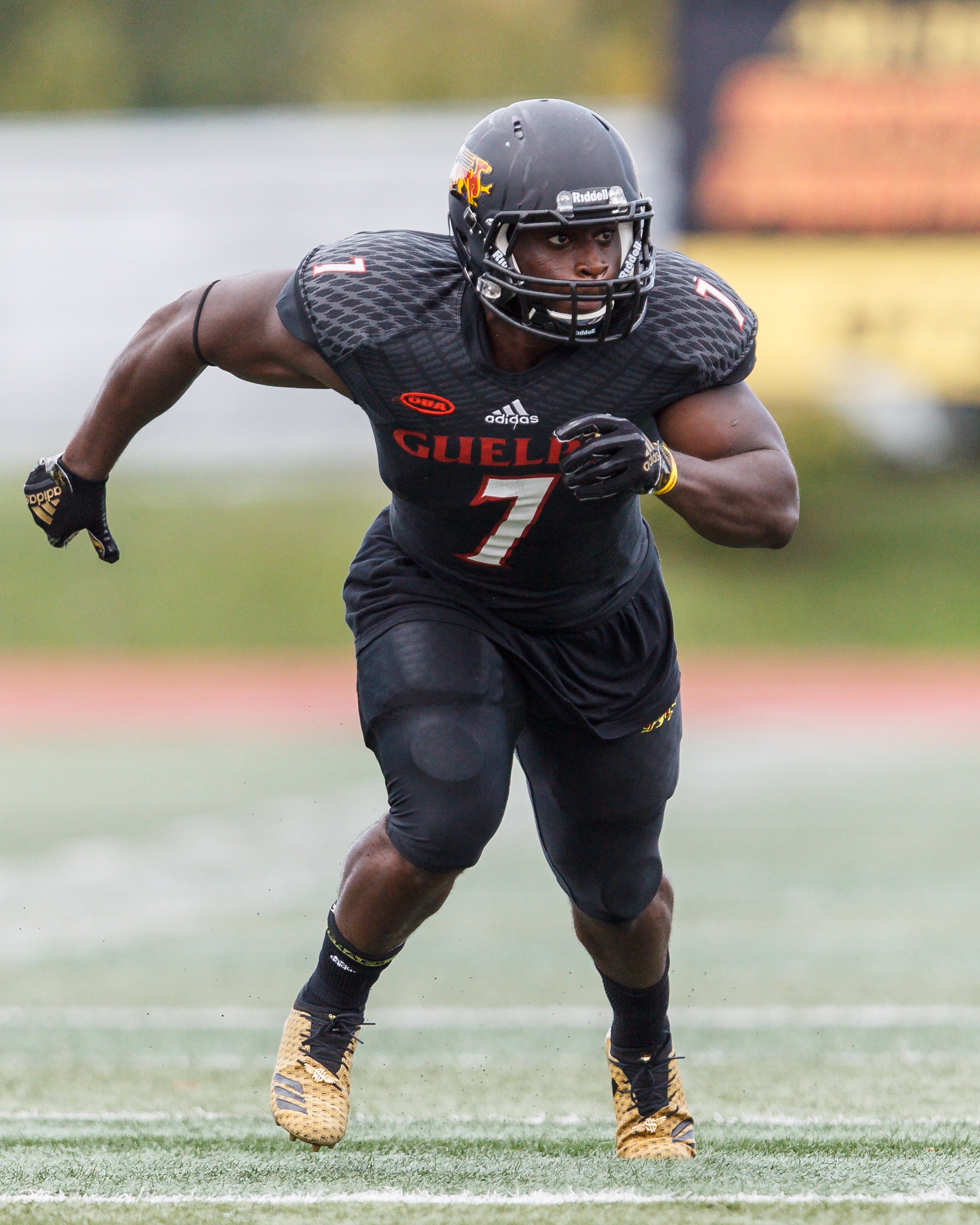 In all, the main goal of the documentary series is to inspire others. Alain Cimankinda went through a lot to get to where he is and he continues to break the barriers in his way of success on and off of the field; something he hopes others can do as well. The man behind the vision to start the documentary project, Ronny Musikitele, a sports enthusiast and owner Skyline Sports Global where he does his part to bring athletes of all stages, youth, university and pro to the highest level possible. Musikitele has been a big supporter of Alain Cimankinda since he was in youth league; being aware of the talent and athletic abilities that run in the Cimankinda family, starting with Alain's older brothers and of course ending with Alain and his younger bother J.P Cimankinda who is signed to play with the University of Ottawa Gee Gees in 2021. He has seen Alain grow from the outside looking in and as he has watched him grow not only as an athlete but as a person he has been keen on bringing the Alain Cimankinda story to more people outside of just Ottawa. The best way to do so and the way that Musikitele and Cimankinda both agreed upon was a documentary series, when asked about the project which is almost in the works pending Covid-19 restrictions Musikitele had said, "I met Alain when I was young, I was actually close with his cousin when I was around 7 or 8 years old which kind of exposed me to him and his family. As a sports fan and one that played sports growing up my first thought of Alain and his brothers was like 'wow these guys are beasts' simply because they were always bigger than other kids their age and with the athletic ability that they all had you knew that one of them would be a big name one day." 
Establishing his name first at Guelph University, almost breaking records at the U Sport level it is looking like Alain Cimankinda will be the big name of the family. A part of the spreading of the name 'Alain Cimankinda' Ronny Musikitele is working on having his name known in the media, not only for football but also for the person Alain is, starting with this documentary series. Ronny added, "Its a beautiful thing what he is doing off of the field. He is a world class athlete, becoming a professional in the CFL and to see that he has a lot going on off of the field as well, being an entrepreneur and a positive influence on social media its great to see. My goal with Skyline (Sports Global, Musikitele's company) is to help athletes and seeing that Alain is doing that too, while being an athlete I felt like he was the perfect example for what I am trying to accomplish and if enough people see what he is doing, a lot of people can be impacted by his vision."
Alain Cimankinda's vision has always been simple. In every stage of life he has been in; whether it was when he was in elementary school and playing youth football, going to Franco Cité and playing high school football there or even most recently when he was at post secondary school, continuing his path to the NFL or CFL he has always wanted to be the best Alain Cimankinda he can possibly be. That is something he has done on and off of the field, getting sacks on quarterbacks at every level of football, graduating university and now starting up his own companies in 'Sauce Life Royalty', and 'El Saucy clothing'. To showcase exactly what he is doing he will be talking a lot in the documentary series to talk about the journey he took to get to where he is today, prepping for the CFL Draft as well as the vision and goals he has set for himself moving forward in his careers on and off of the field. When asked about the documentary coming soon Cimankinda was keen on saying, "Football was my way out. It was my calling on how I can get out of where I was, growing up in a rougher area in Ottawa but it isn't the only avenue for my future. I am now in a comfortable position where I will make money from football but I'm also starting my life outside of football as well which will be more of my work while football will be more fun for myself. I want to make sure that people understand that they can do more outside of just one thing. If you're an athlete or even a student athlete you don't have to wait until after your career to start working on something major for yourself, you can do it now." He also added when talking about the documentary, "I'm really excited about it. I am very active on social media, hoping to inspire others every chance I have to do so and now if I can share my story and my visions I think I can inspire a lot of people and really that is my only goal because it is more than just being able to have my name advertised, its to bring attention to topics that can benefit others." 
As Alain Cimankinda, Ronny Musikitele, Jordan Zlomislic and Eldrinson Vado work on the documentary series surrounding the journey and future of Alain Cimankinda; do some research on Cimankinda, learn more about his career up to this point and when the series starts to be released to the world and he is drafted into the CFL you will be caught up on the amazing journey he has taken. 
Watch the trailer for the Alain B. Cimankinda Story below