Over recent years we have seen a consistent growth in Canadian talent in the game of football. A large number of Canadian athletes have been able to go across the border, stateside and have tremendous careers in both the NCAA and the NFL. In the 2020 NFL Draft it was showcased with Canadians going in back to back rounds, Chase Claypool in round two to Pittsburgh and Neville Gallimore in round three to the Dallas Cowboys but the real demonstration comes on Thursday, April 29th through Saturday May 1st. In the 2021 NFL Draft hosted in Cleveland, Ohio we are expected to see approximately 5 or 6 Canadians get their name called and have the opportunity to play in the NFL alongside Claypool and Gallimore. Highlighting this year's NFL Draft class of Canadians is running back Chuba Hubbard. Hubbard, who grew up just outside of Edmonton, Alberta will be the first Canadian running back drafted into the NFL since Tim Biakabutuka was selected 8th overall by the Carolina Panthers in the 1996 NFL Draft, though it is also noted that he will not be the last running back picked to play in the NFL from Canada.
Alongside Hubbard in the NCAA's 2020 season was Canadian running back Chase Brown who rushed for over 500 yards in 6 starts at Illinois, and now Ludovick Choquette who is finishing his 2020/2021 NCAAF season with the Western Illinois Fighting Leathernecks where he's had 190 scrimmage yards in his two starts. Both Brown and Choquette still have a lot of time ahead of their NFL Drafts, though should be looked at more and more as they continue to play well across the border, like Choquette's high school teammate Brendon Barrow who will be playing at Stanford this coming fall in the PAC-12.
Brendon Barrow and Ludovick Choquette were both featured in coach Jesse Chinchar's 2019 Clearwater Academy International offensive backfield with quarterback Luca Stanzani. A backfield that has seen a lot of Canadians and will continue to see Canadians as Chinchar expects to see Merton Theagene and Isaiah Adams return to the Knights as well as Khalid Campbell, an Ottawa, Ontario native who will be joining the Clearwater Academy Knights for the 2021 High School Football season. Of the three, I was able to talk with both Theagene and Campbell about their opportunity to play at Clearwater. Following the first season he spent at Clearwater Academy in Florida last year Merton Theagene said, "This was a perfect opportunity for me." and explained how he got there, why its a great opportunity saying, "coach Jesse and I messaged back and forth in Grade 10 but I wasn't to sure about it but when I got more serious about football it was a no brainer to take up the offer. It is a great position to be in in the United States because I can now show that I can play with the American players before I go to University." Being able to showcase the ability to play against American talent at the high school level is something a lot of Canadians hope to do to ease the recruiting process and for Theagene he's already had the opportunity to see the recruiting process first hand. Growing up in Montreal he had family play at the University level in Canada, playing at Notre Dame High School in Quebec he saw a lot of players from school go and play at the next level and most recently watching Brendon Barrow, who started in front of him in 2020 go through his signing day with Stanford gave him a lot of insight as well as motivation.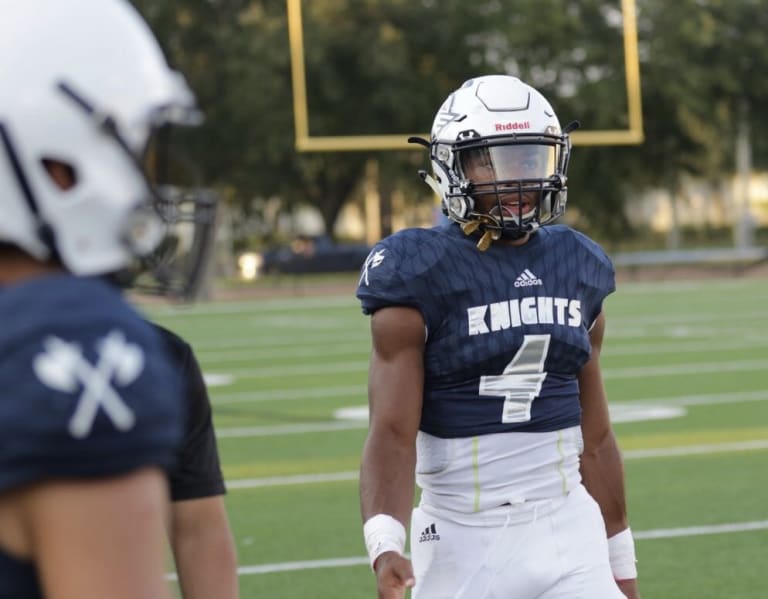 When asked about the 2020 season spent with 247Sports' 8th ranked 2021 running back Brendon Barrow, Merton Theagene had mentioned, "It was great to watch him play and learn some things from him. He's a very talented player and I want to have a similar opportunity as he does so I took advantage of the year with him and also the coaching we had in Florida." Not only was Theagene coached by Jesse Chinchar who has helped several international players live out their division one dreams but he also had the opportunity to be coached by coach Jean Guillaume. Guillaume, an Ottawa High School Football coach is known across Canada for the work he has done at St Matthews High School in Orleans, just down the 417 from downtown Ottawa as well as his own program The Northern Maroons where he has coached players like Kervens Bonhomme, Katley Joseph, Jesse Luketa, Willy-Pierre Dimbongi, Geri Theodore, Shakespeare Louis, Ebenezer Dibula, A.K Ismail, Alain Cimankinda and many more, each their respective way to the University level. He spent the 2020 High School Football season across the border coaching both defensive backs and running backs at Clearwater Academy International alongside Ottawa players Nathan Casimir, Shakespeare Louis, Alex Vilain, and Ebenezer Dibula who he helped get there. "He's incredible" said Theagene when talking about Coach Jean Guillaume. "He does so much for his players. It was a great time being coached by him at Clearwater and I'm definitely going to see him in Ottawa this summer to train with him."
A player that Merton Theagene may come across in Ottawa if he trains there this summer with Coach Jean Guillaume would be Khalid Campbell. Campbell who has grown up in Ottawa isn't coached by Guillaume but is often on the same fields as he is, getting in work with Gridiron Academy's Victor Tedondo who like Guillaume is a well known coach north of the border, having coached a number of players to the University level and even Eli Ankou to the NFL. Khalid Campbell will be attending Clearwater Academy International this fall, and like Theagene looks to make an impact as a Canadian running back. The Ottawa running back has made his presence felt, having won 3 championships in Ottawa's football leagues while being named team MVP 4 times by his Cumberland Panthers coaches but eventhough he's already had some success in Ottawa he knows that doesn't mean much south of the border. He said in an interview, "I want to prove everyone wrong, give back to my community and help kids where I grew up from to also have the same opportunity as me."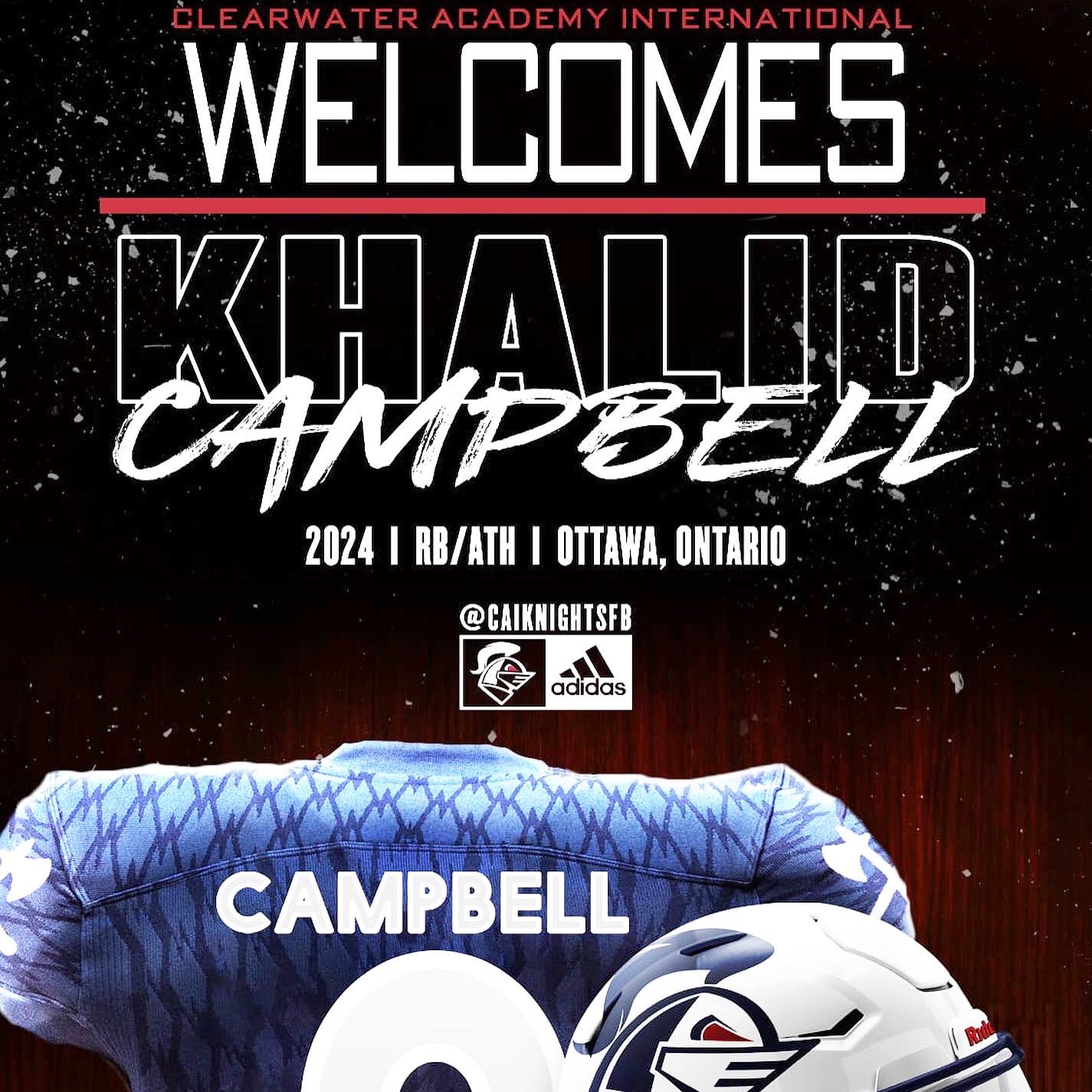 The opportunity that Khalid Campbell has in Clearwater, Florida could be a life changing opportunity like it has been for many players like both running backs Ludovick Choquette and Brendon Barrow mentioned previously and Campbell understands that. He has one big goal coming into the opportunity down south and is determined to reach it, "All I want is to play Division one football and make it to the league one day." he said. A goal that a lot of people have but at 5-foot-9, 180 pounds this 2024 running back, with the coaching he has had in Ottawa with Victor Tedondo, as well as the coaching he is set to have south of the border has a strong chance of getting there.
Both Campbell and Theagene will be suiting up for the Clearwater Academy International Knights this fall, as Canadians they not only will be representing Clearwater Academy but the entire country of Canada as they continue their journey to the division one level.