On Thursday April 29th the 2021 NFL Draft will start. Going until Saturday May 1st, unlike previous years this NFL Draft class features a number of Canadian athletes. There are 6 Canadian-born football players that are expected to be drafted in the 2021 NFL Draft which coming off of a 2020 Draft where both Chase Claypool and Neville Gallimore were is a great look coming from Canada. The Drafts with the most Canadians drafted came in 2014 and 1986 with 4 drafted in each of them so if all six prospects that are expected to get drafted, Chuba Hubbard, Jevon Holland, Joshua Palmer, Alaric Jackson, Benjamin St Juste and Amen Ogbongbemiga get drafted they would reset the record to 6 players and with both receiver Terrell Jana and tight end Bruno Labelle there is a slight chance that the previous most gets doubled with 8 Canadians drafted into the NFL.
Running Back Chuba Hubbard, Oklahoma State
Chuba Hubbard may be one of the most exciting Canadian in this year's NFL Draft class. Being named a top five running back and a top 100 prospect in the 2021 Draft class by numerous NFL sources, Hubbard's 4.48 speed might get him drafted in as early as the second round on April 30th.
In his 2021 Oklahoma State Pro Day, alongside his 4.48 40 yard dash Hubbard headlined with a 36 inch vertical and a 10 foot broad jump with 20 bench press reps of 225 pounds really signifying what he showed on game film over the span of his collegiate career. During his 3 seasons with the Oklahoma State Cowboys Chuba Hubbard had over 660 all-purpose touches for 4,490 yards and a total 36 touchdowns. Having played in just 33 games in the 3 seasons at OSU Hubbard averaged a touchdown once every 18 touches. He also averaged 136 all-purpose yards per game from 2018 through the 2020 season.
Wide Receiver Joshua Palmer, Tennessee
At 6-foot-1, 210 pounds, Brampton, Ontario native Joshua Palmer looks to continue the streak at 3 straight years with a Canadian-born receiver drafted in the NFL Draft. In 2019 the Patriots selected Nkeal Harry, a Toronto-born athlete out of Arizona State and and last year Notre Dame's Chase Claypool of Abbotsford, British Columbia was drafted in the second round by the NFL's Pittsburgh Steelers now Palmer hopes to be drafted in the 2021 NFL Draft.
Josh Palmer played in 47 games over his career at Tennessee, making a catch in 41 of them, totalling for 99 catches for 1,514 yards and 7 touchdowns while rushing for 37 yards and an additional touchdown. In the 6 games that Palmer didn't catch a pass, 4 of them coming in his true freshman campaign in 2017, the Tennessee Volunteers went 1-5. Palmer's 4.51 40 yard dash, and his performance at the 2021 Reeses Senior Bowl in Mobile, Alabama which he caught a touchdown pass from Kellen Mond in has helped his draft stock as a big body, good route running, quick receiver.
Offensive Tackle Alaric Jackson, Iowa
Canadian offensive linemen in the NFL isn't anything new for football fans. Last year Carter O'Donnell of the University of Alberta made his way to the Indianapolis Colts on an undrafted free agent deal but matching up with Brett Jones, Dakoda Shepley, Laurent Duvernay Tardif and Ryan Hunter Windsor-born offensive lineman of Iowa Alaric Jackson has a very strong chance of being drafted in the 2021 NFL Draft and is featured as a top 10 offensive lineman available by multiple NFL Draft gurus.
At 6-foot-5, 321 pounds offensive tackle Alaric Jackson has started each of the 42 games he was a part of since redshirting his freshman campaign in 2016, all at left tackle. Jackson was Triston Wirfs' teammate from 2016 through the 2019 NCAA season, Wirfs went on to win the Super Bowl in his 2020 rookie season with the Tampa Bay Buccaneers as a starter, Alaric Jackson strives to do the same.
Defensive Back Jevon Holland, Oregon
Projected to be picked within the first two or three rounds in the 2021 NFL Draft on either April 29th or 30th Jevon Holland said, "The NFL is my olympics. It's my opportunity to represent Canada." At the University of Oregon, prior to the 2020 NCAA season that he opted out of Holland made 108 tackles, 10 pass deflections and 9 interceptions.
Having played in 27 games from his true freshman season in 2018 where he first made an impact leading the team with 5 interceptions though the 2019 season Holland made a huge difference in the defensive backfield. In each of the 8 games that he had one or more interceptions in the Oregon Ducks went 7-1.
Linebacker Amen Ogbongbemiga, Oklahoma State
Amen Ogbongbemiga, the Calgary, Alberta native not the only Alberta-born player on the Oklahoma State Cowboys, having played with running back Chuba Hubbard but without a doubt Ogbongbemiga has been the best on the defensive side of the ball while Hubbard has taken care of business on the offence.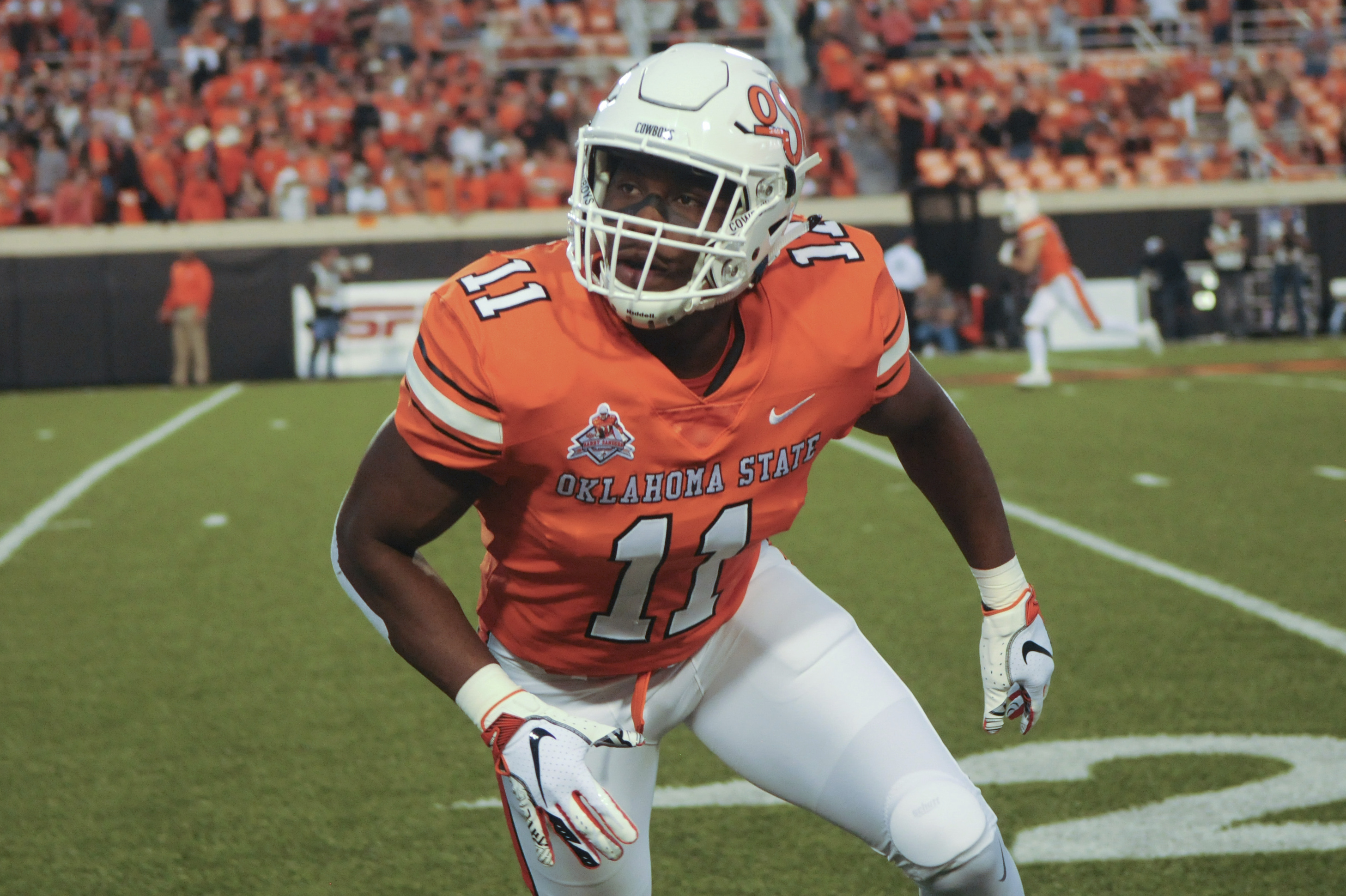 As a Cowboy Amen Ogbongbemiga has played in 49 games, gratuity improving in each of the 49 games, making 180 tackles in his final 24 games at the school averaging well over 7 tackles per game at the linebacker position but the real stat for Amen Ogbongbemiga is how he has helped his team win games since coming in as a redshirt freshman in 2017. As we have heard defence wins championships, last year it was on display yet again with the Buccaneers shutting down Patrick Mahomes and the Chiefs offence in the Super Bowl and for Ogbongbemiga he has helped the Oklahoma State Cowboys win games as a linebacker, going 23-9 in games that he has made multiple tackles and 5-3 in games with a sack over the span of his collegiate career at OSU.