In 2013 there was a wave of great football players that were introduced to the NCAA. Looking back at it today it may be one of the more successful recruiting classes of recent history. Some prime examples that you can name from the group would be Derrick Henry, Jaylon Smith, Chris Jones, Ezekiel Elliott, Alvin Kamara, Jalen Ramsey, Joey Bosa and Tre'Davious White who've all become big name NFL stars, although to pair with all of the successful players that have now found their way to the NFL are a number of busts. Marketed as one of the biggest busts in the NCAA and a quarterback that USC signed over Jared Goff and Mitchell Trubisky, eventually disappointing a lot of Trojan fans in 2013 was Max Browne. Browne was the number one quarterback available in the 2013 recruiting class, the seventh best overall player available according to Rivals' top 100 list and he was on a mission. Max Browne said in my interview with him, "As soon as I got to SC I wanted to take over for Matt Barkley, start as a true freshman, play three years and become an NFL first round quarterback." he then explained, "That was the plan I had set in my mind. I can humbly say that I had the work ethic to match it but things ended up going in a totally different direction."
Unfortunately for Max Browne, his career at USC didn't go as planned. Being the number one recruit he was heavily talked about and a lot was expected of him but after redshirting his freshman season in 2013 and throwing less than 20 passes in the first two seasons of his collegiate career it didn't take long for football fans to stop talking about him. Browne's time at SC was full of opportunities, he was put in several different positions to become the starting quarterback at the University of South California and to be the next Mark Sanchez or Matt Barkley like he hoped to be going into the school, though he never was able to live up to that. Browne elaborated, "I ended up losing a couple competition battles at USC, went through coaching changes where I played for Lane Kiffin, Ed Orgeron and Clay Helton all in one season while also playing for Steve Sarkisian before playing for Pat Narduzzi at Pitt and overall I didn't have that many great experiences playing football at University that I would have hoped but I made the most of my opportunities everywhere I went."
As Browne mentioned he not only had the opportunity to compete at the University of South California but he also had played one season at the University of Pittsburgh. With the Pitt Panthers Max Browne didn't have too different of an experience compared to the time spent with USC, only playing in 6 games before suffering a shoulder injury which ended up finalizing his collegiate football career. In the 2017-18 ACC season with the Panthers Browne ended up completing 96 of 135 passes (71%) for 997 yards with a 5 to 2 touchdown:interception ratio. Browne's season in 2017 was by far the best of his university career, going up against the 650 yards and 2 passing touchdowns that he threw over the span of his three year tenure at USC and behind just 1,647 yards and 7 touchdowns in his time in the NCAA Max Browne's best memory on the field came at Pitt as well. He mentioned, "My game against Rice while I was at Pitt was my favourite on the field memory, having thrown for 400 yards and 4 touchdowns it was fun to have the winning experience and I won ACC player of the week which felt good at the time but overall the best memories came within the relationships I built at both schools."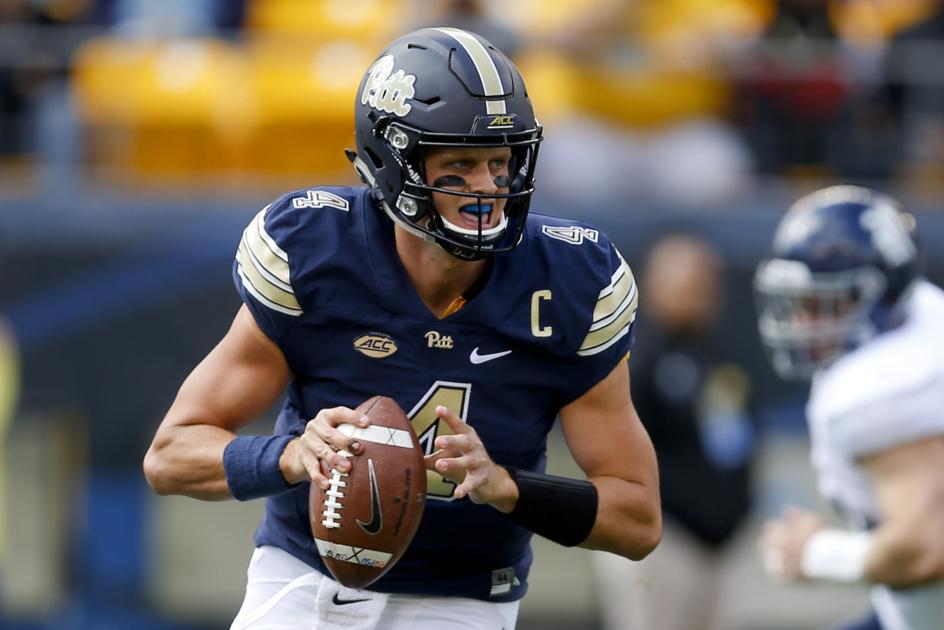 As a former number one recruit, only having one big game to look back on with a smile where Browne completed 28 of 32 passes for 410 yards and 4 touchdowns, winning the ACC player of the week in a 42-10 win over Rice is disappointing. Max Browne was deemed a bust by many, he had a lot of hype around him entering his University career, he had around 20 offers from big power 5 programs and he recalls having great experiences in his recruiting process, Browne looks back on a couple of old stories, "I remember being in art class, my football coach came into my class room and he looked at my art teacher, pointed at me and said 'I need to talk to Max.' At this point everyone had been somewhat used to me having conversations with coaches and all that but there was something different about this time. I left the class room to go see my coach and he just handed me the phone so I pick it up and put it to my ear. It ended up being Nick Saban on the phone. It caught me off guard because this is arguably the best coaches in college football taking the time to talk to me about going and playing for him." He also had another recruiting story from a high school basketball game that Josh Heuple, who at the time was Oklahoma's offensive co-ordinator and is now Tennessee's head coach was at to watch Browne, "I threw down my first dunk that night, I did it right in front of him against one of my school's rivals and after seeing my athleticism that night I received an offer from OU a couple days later."
Browne has many stories from the recruiting process. Being the number one ranked quarterback of the 2013 recruiting class every school out there wanted hands on Max Browne, with USC ending up having him commit in April of 2012 Browne says, "It was all USC after that. Oklahoma, Alabama and Washington were all there too as big options but I was all about USC after I committed." Although USC may not have been too thrilled with the overall result of Max Browne being in a Trojan uniform. He explained more, "It wasn't how I drew it up. It wasn't what I hoped for or what I wanted to have happen to me or USC but here I am, at 26 I've got a lot of great things going on with my life and I had a lot of great experiences at both schools off of the field and I learnt a lot." At both USC and Pitt Max Browne was named a team captain, voted by his teammates. He believes that being a captain at both programs is one of his biggest achievements and even-though many have talked about Max Browne being a bust, he himself has not let that get to his head. Browne has focused on all of the success he had over the span of his football career both on and off of the field and despite having a poster on his wall featuring Rivals' all-decade NCAA busts with his picture headlining the article he has moved on from the time he spent at both USC and Pitt. He has used the negativity as motivation for his life after football and he's used his experience in football and in school to educate the next generation of athletes.
The talk surrounding Browne is mostly regarding the disappointing collegiate career he had at USC, and like the Rivals' article mentions as one of the biggest busts of recent NCAA history but what isn't talked about is the football player, student athlete and man that is found above his shoulders. Max Browne was a leader at both schools he played at, and being a captain for both the Trojans and Panthers back that up but he was also a great student. While performing on the football field at the Coliseum in Los Angeles Browne took advantage of the schooling he had at USC, completing three degrees at the University of South California all under his scholarship. he comments, "yes my college career didn't work out as planned on the football field but what happened on the field and behind the scenes, having lost competition battles, experiencing coaching changes and transferring to Pitt where I suffered an injury didn't change who I was. Everything I went through only helped me, it didn't make me any worse because I didn't let it make me worse. I stayed grounded and that outside of a few good games and being a leader in both locker rooms was my biggest achievement." Browne explained more, "I learnt a lot from all of the coaches I had, I took advantage of the schooling, getting three degrees total and I was able to learn a lot about myself and the world around me."
In the conversation I had with Max Browne he talked a lot about the positives that he took away from the college career he had and now at 26 years old what sticks out to myself and other football fans would be his success post-football. Browne accomplished a lot from the start of his football career as a kid to January 2019 when he hung up his cleats, being named 2012's Mr Football, the 2012 Hall Trophy winner as well as a two time Gatorade player of the year award winner he was given a lot of hype and he will be remembered by many from the great attributes he showed on the football field but the way its looking now he will also be known as a great business man. Since stepping away from the game of football in 2019 he has used his education and connections to get a job with internet personality Gary Vaynerchuk who owns a series of different companies through the Vayner X name brand, get his name in the door in commercial real estate all while sticking around football as a colour commentator for college football games. He has been able to work radio with Sirius XM, Stadium and USC, covering college football while also appearing once on TV doing commentary for a UAB vs LA Tech game last fall. When talking about what he's busy with now he said, "I want to be in business but I also want to stay in football. I have so much that I want to do within the game of football still and a lot that I want to talk about so I've been building a YouTube channel, I've been on radio and TV talking football and then as for business commercial real estate has been something that I've been working on as of recent."
Going into his career at USC, having been the number one recruit Browne and a lot of people around him would have thought that at 26 years old he would still be slinging the rock at the professional ranks. His plan was to start three seasons at USC and become a first round draft pick in the NFL, at 26 he would be finishing his rookie contract and be in the midst of a large pay day, although Max Browne learnt that not everything you want to happen will happen. He isn't finishing his rookie NFL contract right now, and in the midst of a big NFL contract but Browne is stacking good days. Browne has been using the experiences he had through the game of football, both good and bad, the education he has from University and the prior knowledge of life and football to help the next generation of athletes. He will not be the last bust in college football. There have been plenty of players whose careers don't work out and there will continue to be plenty of players that face the same troubles that Max Browne did but Browne believes that being a bust in football doesn't mean you are a bust in life. It is something that he learned through his own experience and creating a platform on YouTube, being a colour commentator and commercial real estate agent he has been showing exactly that to the next wave of athletes so that they can learn from mistakes made by previous athletes. He gives some words of advice to athletes, "Stay grounded. Don't get too high on yourself. Don't think your shit doesn't stink when things are awesome and don't get too down when things fall a part." he continued, "Over my whole life I have always been the same Max Browne. Whether you know me from middle school or my senior year of high school or even in 2019 when I was without football for the first time other than a few small changes I've always been the same Max Browne. My character has stayed the same. I've hung around a lot of the same people my whole life and I haven't gotten too high on myself or low on myself and that is something I am very proud of and I think if other athletes did this or do this they can have a good future in or outside of football."
Later in the conversation I had with Browne, I asked Max about when his college career was starting to come to an end and how big staying grounded was in the transition post football, "The music always stops." he responded, "A lot of people have trouble realizing it because of the egos they've built when they were having success and thats where you have to stay grounded so when the music stops you don't have trouble moving on to the next chapter. It helped me navigate myself to where I am today, being in the media side of the game while also doing some business work and more people can benefit too."
Being able to create a platform where he posts educational videos about football on YouTube and tells his story via social media Max Browne has enjoyed having the ability to tell his story while its happening so that others can learn from him. He said, "I've been happy to share my story and help the future generation."
Browne, as mentioned earlier has a YouTube channel, is working with Stadium, Sirius XM, and USC as a broadcaster and has launched his career in commercial real estate, "stacking good days" he says. Checkout all of Max's social media platforms now to stay up to date with what he has going on and to keep up with the Max Browne story.