On Tuesday May 4th at approximately 10:00 PM EDT in the nation's capital Alain Cimankinda got a call from his agent Fred Weinrauch informing him that he'd been drafted by the CFL's Saskatchewan Roughriders with the 35th overall selection in the 2021 CFL Draft. Cimankinda soaked in draft night with a group of family and friends, really having the opportunity to look back at the long journey it took to get that call indicating that he is now a professional athlete. He commented, "It was amazing to be with my family for this moment. When you look at my journey, the last 7 or 8 years I have been away from home so to provide this experience with my family was amazing."
The journey started in the Congo where Alain was born into a family of 12, then continued in Ottawa, Canada, the city that he and the Cimankinda family moved to at a young age. Alain Cimankinda faced several trials and tribulations over the span of his youth, having grown up in the projects of Ottawa it was tough sometimes for him to see a successful career at the end of the tunnel but as he got older, started to make good choices and hang around the right crowds it became easier for him to envision himself in a better position in the future. A position he saw himself in a lot growing up was where he is now as a professional football player, "I made it a goal of mine as a kid to make it pro in football." said Cimankinda after getting drafted into the CFL in the 2021 CFL Draft. He began to play football with NCAFA's Bel Air Lions where he played for Coach Mike Gelineau Jr, then made his way through a few other teams in Ottawa like the Neapen Redskins (now the Eagles) and Myers Riders. Gelineau Jr made a comment in the documentary saying, "Just getting to know him at first you could tell he's all in, thats just his character." All in is one way you can put it, and a great way to put it now seeing how far his character and mindset has taken him. Through NCAFA, OVFL, CEGEP, JUCO and U-Sports football all the way to the CFL, Cimankinda's journey on the field is just as long as it has been off of it and at 25 years old his journey is just getting started.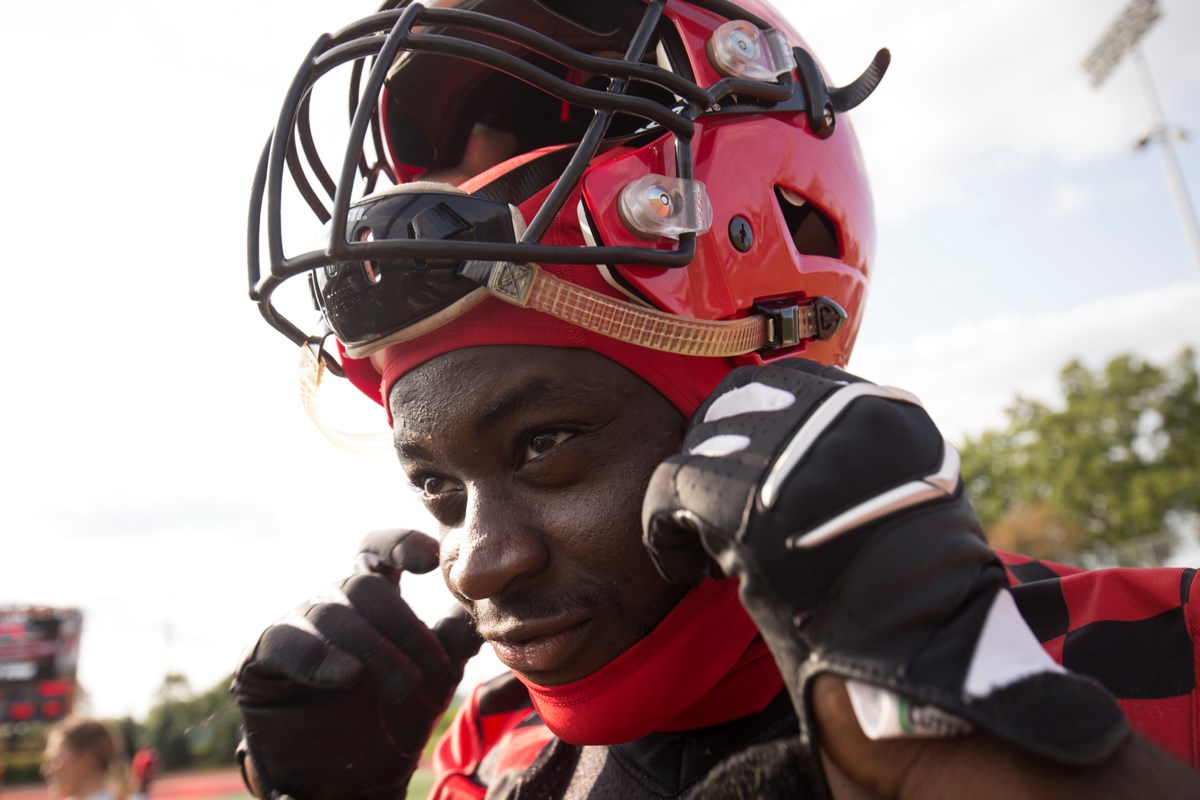 Coaches, teammates, friends and family members all will be featured in The Alain B. Cimankinda Story to tell their parts of the long journey that Alain has travelled thus far. Being worked on by Ronny Musikitele of Skyline Sports Global, Jordan Zlomislic at JZ Media and Vado Visuals' Eldrinson Vado, part one is now accessible to watch on YouTube where you will be able to be inspired by Cimankinda's upbringing in Ottawa. Watch him walk around the neighbourhood which he called home for a large amount of time in his childhood and hear from him as well as some of those closest to him to learn more about what his childhood in Ottawa was like on and off of the football field.
Parts two, three, four and five will be coming out in the following weeks, be ready for that and stay up to date with all Alain Cimankinda documentary news and more at https://jzmedia.ca/