LaDarius Galloway spent the 2019 CFL pre-season with the Calgary Stampeders. He was battling with other running backs Terry Williams, KaDeem Carey and Don Jackson who all ended up making the Stampeders final roster and as a committee rushed for 943 yards and 5 touchdowns on 186 carries and caught a total 46 passes for 383 yards and a touchdown over the span of the 2019 CFL season. Leading the pack was former NFLer KaDeem Carey with 556 scrimmage yards and 3 touchdowns on 90 touches, averaging just over 6 yards a touch, however he and Galloway didn't look too different during the pre-season, in fact they looked quite identical considering their style of play. Carey had 8 touches for 83 yards over the two showcase games, making it 99 yards total on 12 touches for the Carey-Jackson-Williams committee but University of Tennessee Martin product LaDarius Galloway had similar numbers with 82 scrimmage yards on 8 offensive touches.
Unfortunately Galloway didn't make the cut after his pre-season campaign with the Stampeders, averaging over 10 yards per offensive touch but he hasn't stopped showcasing his talents at the professional stage and at just 24 years old he has a long career left in him in the CFL or NFL if given the opportunity. Earlier in the 2021 calendar year, following the COVID-19 pandemic he was granted the opportunity to play in Ray Austin's Fan Controlled Football League bubble in Atlanta, Georgia. Over 6 games in the bubble, playing 7 on 7 football in an arena Galloway was featured as the league's best running back, running and catching the ball 50 times total for 351 yards and 7 touchdowns. Averaging over 7 yards per offensive touch in the start-up league he got the attention of coaches and scouts, enough to get a second opportunity to showcase himself in a development league, The Spring League.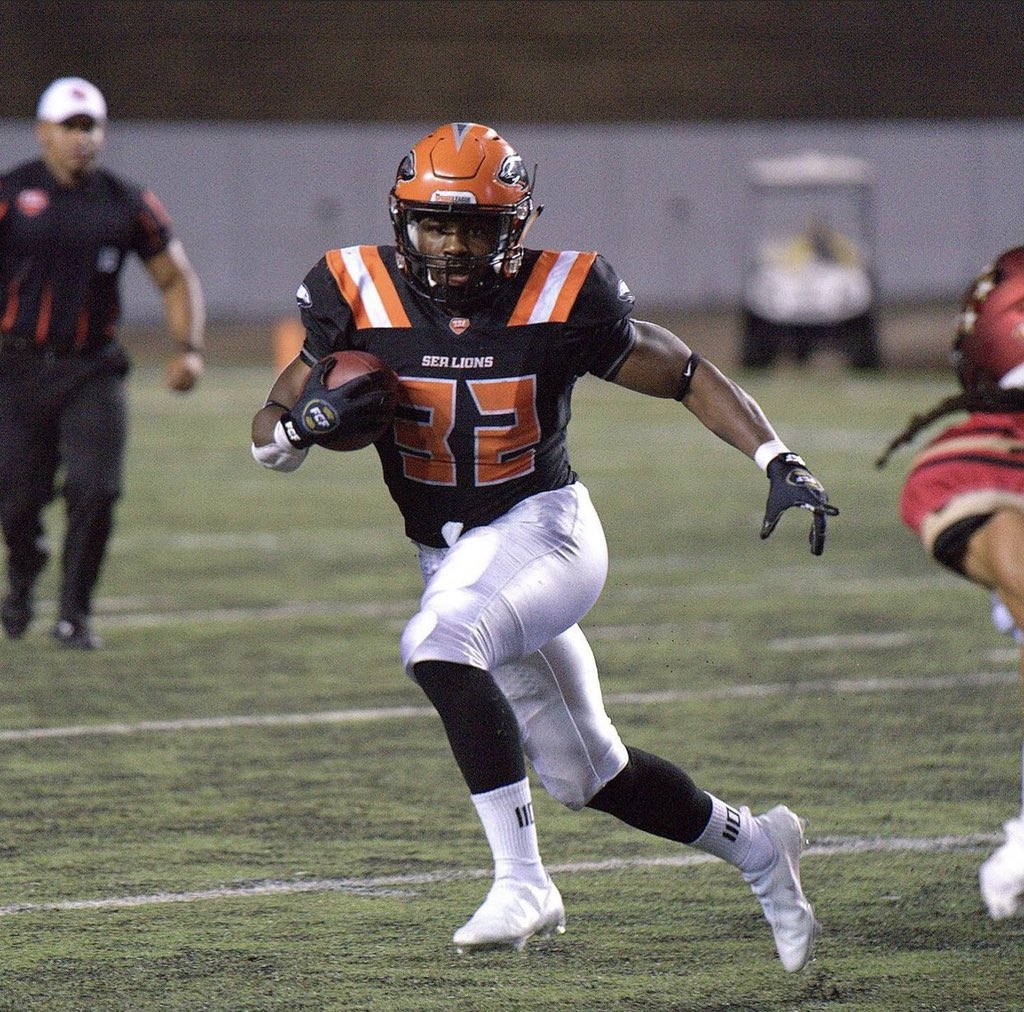 He had his TSL debut on May 8th where he ran the ball 10 times for 95 yards and had one catch for 11 yards. He has since led the TSL in rushing after three games with 294 yards and one touchdown as well as 7 receptions for 40 yards. He averages 111 yards a game on 17 touches, 6.5 yards per touch.
Galloway and the Sea Lions have 3 more games left in the TSL regular season and will continue to showcase his talents to CFL and NFL scouts as he strives for another opportunity to play football at the next level. Prior to The Spring League's season he ran a pro day with his agent, running a 4.64 40 yard dash, 4.35 shuttle and 6.89 3 cone drill. At 5-foot-8, 205 pounds Galloway is an elusive back with high potential. He could be a starting running back in the CFL or a backup in the NFL if he stays on track in the TSL and in the future.