Over the history of the NFL, fans have seen a lot of great receivers. Jerry Rice, Michael Irvin, Randy Moss, Marvin Harrison and then recently Calvin Johnson and Larry Fitzgerald just to name a few. Though all of these receivers are very different players on and off of the field and have had respectively different impacts on the teams they've been a part of, they all have one thing in common, that being a consistent and reliable target for the quarterback. On every team he has been on, Cape Cod native Andrew Jamiel has been exactly that for his quarterbacks and he is aiming to show that at the professional level.
The 23 year old pass catcher has a goal to play professional football in either the NFL, CFL or even the XFL, however due to Covid-19 pandemic it hasn't been easy for him to get an opportunity to do so. With that being said though, Jamiel has recently been signed by a new league, the "Fan Controlled Football League" (FCFL) and in the league he will have the chance to play alongside other professional football players and continue to prove who he is as a receiver. When asked about this upcoming opportunity Jamiel commented, "I am super excited to play in this new league. I've always dreamed of playing in the NFL or CFL and having this opportunity I feel one step closer to fulfilling that dream."
As close as he may seem to the dream now, it has taken a lot of hard work to get to where Andrew Jamiel is today and it has never been easy to prove himself as the best. Talking about his childhood and his upbringing in Cape Cod, Massachusetts he had said, "I was raised in a football family, my dad played football at Brown University and is in their hall of fame, my older brother played football at Sacred Heart at the division one level and then more recently my sister was a New England Patriots cheerleader, and my younger brother is playing at one of the best prep schools in the country. Seeing what I was raised around, it was clear that I would play and I ended up starting to play when I was younger, being coached by my father." Jamiel's father, Joseph is well known in the Ivy League record books, as he ranks eighth in all-time Brown punt return yards and led the Ivy League in kickoff and punt return average during his sophomore season in 1977. He averaged 36 and a half yards per kickoff return with one touchdown, and 28 yards on punt returns, with two scores, in the 1977 season.
Having the success he had he wanted it to carry on to his children, so in 1997 when Joseph's eldest son, Jo Jo was old enough to play football he had started up the Dennis-Yarmouth youth football program because the community hadn't had one yet. When talking about the situation Andrew Jamiel commented, "You can tell just how much of a football family we are if I told you that my dad actually started a football team just because where he had moved there wasn't one for my brother to play for." he then continued, "After he started the league and I got old enough to start playing, I was coached by him and I was coached by him all the way through high school too and often when people think about a coach's son they think you would just be given a starting spot. It's nothing like that. There wasn't a single day he took it easy on me. He made sure that I proved myself evenly like everyone else and even more than everyone else so I think just having him as a coach helped me a lot and I'm sure it's a reason why I am where I am now."
Being coached by his father and Paul Funk at Dennis-Yarmouth High School, Jamiel broke out as one of the best high school football players in all of Massachusetts, being placed on the Atlantic Coast League All-Star team in 3 of the 4 years he played and as a senior he was named Division 3 Player of the year as well as placed on both the All-State team (Massachusetts) and the All-Scholastic team by the Boston Globe and the Boston Herald. It was without a doubt that he was a great player and a player that any team could rely on and a main reason for that was his mentality. Throughout his high school and college career he mentally stayed in the present and made sure to make as big of an impact in the present not the future, "I see a lot of guys that want to just go division one out of high school, and they spend their high school careers just trying to do something in the future but I made sure to do everything I wanted to do in the present to get to the future." Andrew explained more, "Of course I wanted to be a D1 athlete and make a name for myself in the future as a professional football player but at the time I just wanted to be the best high school football player I could be and I believe I was and it helped me get to the next level."
Having his 'live in the present' mindset got him through a fantastic high school career at Dennis-Yarmouth High School, and to the next level as well like he mentioned. After graduating high school in 2016 he explored his post-grad opportunities, where he had a chance to walk on at the University of Massachusetts, a few playing opportunities at the division two level as well as several at the division 3 and JUCO stage though he ended up enrolling and signing at Stonehill College where he was granted a scholarship and opportunity to play at the division two level. When he talked about his recruiting process and his early years at Stonehill Jamiel pointed out, "I live in a big family, I have 2 brothers and 4 sisters. Adding me to the mix that is 7 kids that my parents would have to support in college and for anyone that is very expensive so when I was looking at schools and when I chose to go to Stonehill my dad kept saying to, 'go where the money is' and Stonehill offered a scholarship so I did just that. As much as that impacted the decision, a lot else went into it as well. When I reviewed all of my options I looked at which teams are heavy passing teams and where I fit the best, Stonehill ended up being at the top of the list and I'm glad I went there."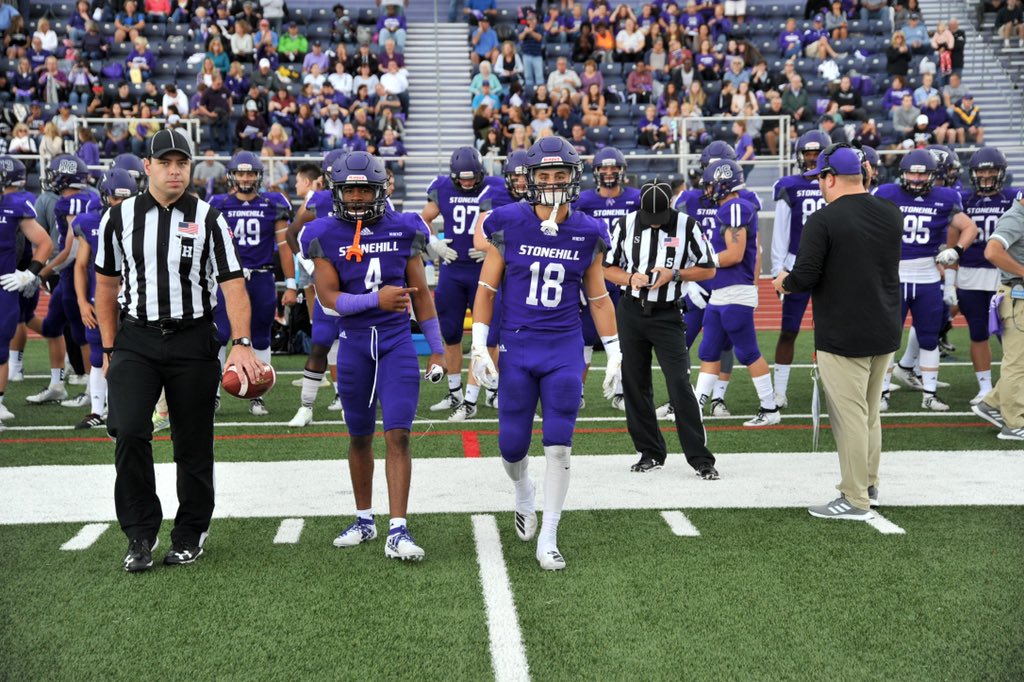 Glad he went to Stonehill, it didn't take long for Jamiel to fit in at the next level. In just his first year of college football he took off, in 10 games he caught 91 passes for a total 843 yards and 7 touchdowns, being a very reliable target and he made that known across the country. With all of the success he had, he'd be named Northeast-10 Rookie of the Year, and was placed on the NE-10 All-Rookie team as well as the All-NE10-Conference second team. The acknowledgments in 2016 were great but as he continues to speak on his mindset he said, "That year was great for me and my teammates. It showed that I can play at that level and once I saw that I just wanted to be the best player I could be. Like in High School I wasn't caught up in any records or anything I was just trying to be the best college football player anyone ever saw." Being the best, well it was something that Jamiel came close to being. After a heck of a freshman campaign he had nothing but success and even though he wasn't focused on the records he was breaking them, in the 2017 season he broke single game records in the game against Pace University where he hauled in a record breaking 18 catches for another record 294 yards and 5 receiving touchdowns. The game against Pace was just one of several great games in the 2017 season and in the rest of his career at Stonehill College. He totalled, in his career at Stonehill 308 catches for 3,639 yards and 30 touchdowns averaging 93.3 yards in each of his 39 career games.
When asked about the success he responded with, "I was just trying to be the best I could be, I wanted to help us win every game I played and it was awesome to be able to have the success I did." Jamiel continued, "As a kid I dreamed of playing at the professional level, I wanted to play football for as long as I possibly could and after graduating college I was in the position where I could get an opportunity to do that. Unfortunately with the pandemic my pro days were cancelled and open tryouts to the CFL weren't options so after going un-drafted, I kind of counted the 2020 season out."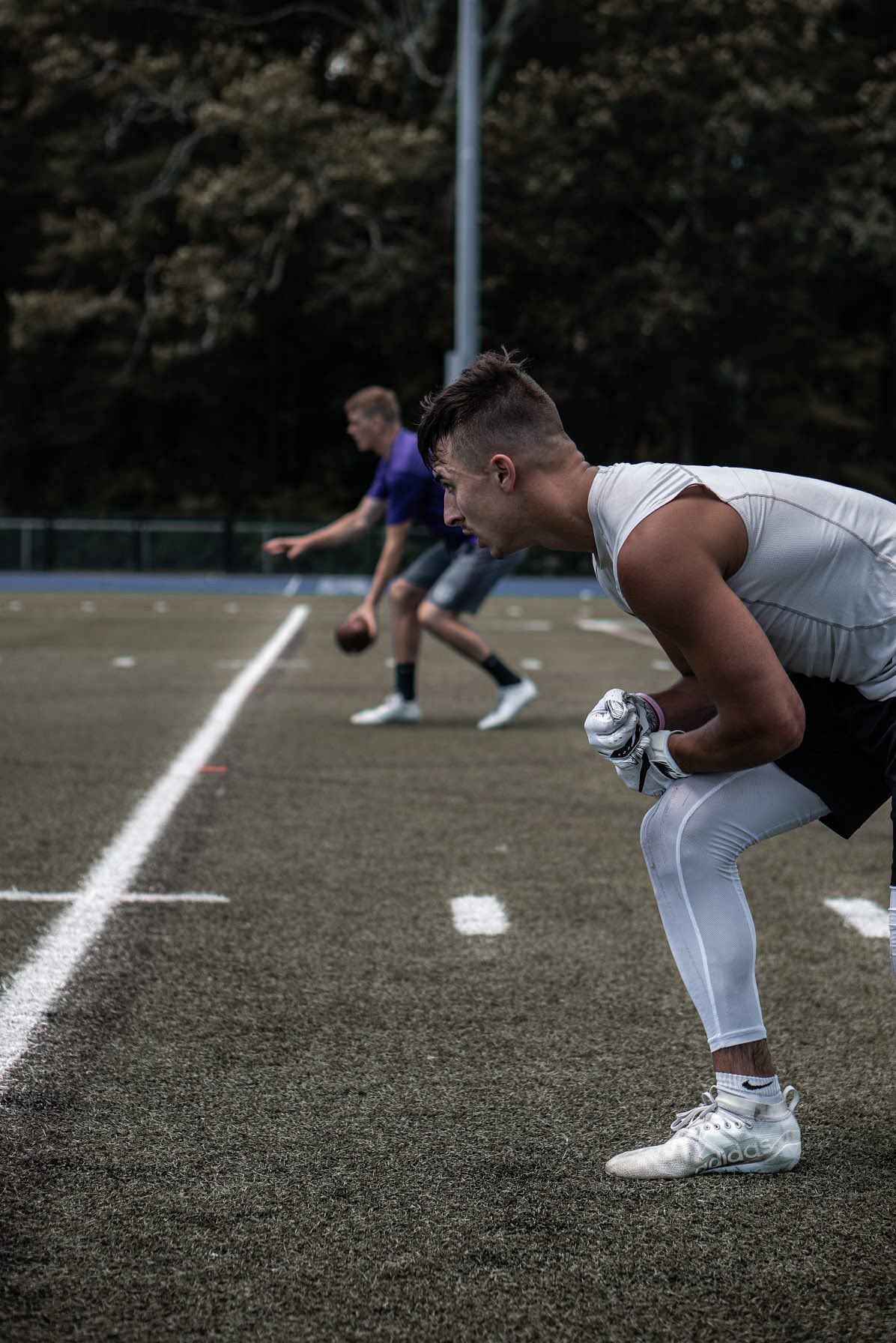 "In college I didn't have a redshirt year, so really I played 8 straight seasons of football with high school and college so this year (2020) was a good opportunity for myself to rest as much as possible and get better. Throughout this pandemic, I haven't had a single day where I don't think about football or where I don't do my part to get better. Whether it's at the gym, on the field or even at my house, I have been working non stop and I feel stronger, faster, and smarter as a football player." Improving as a football player, Jamiel has gone to several different showcases and tryouts for free agents. Although there aren't many opportunities for younger free agents right now with all off the Covid-19 restrictions in place by the NFL and with no activity between the CFL or NFL, there has been a lot of individual events for players like Andrew Jamiel. One of the events that has happened earlier in 2020 and a showcase/tryout that Jamiel went to was for a newly found "Fan Controlled Football League." Yes it isn't necessarily the biggest of opportunities for Jamiel, and some may question whether the league will even survive, but it is professional football, there are some big names involved with the league and its the only opportunity a free agent can get in a pandemic so Jamiel jumped on the opportunity and it ended up working out for him. He was signed by the league at the end of the 2020 year and will be attending the FCFL's first ever training camp in January.
When asked about the opportunity Andrew Jamiel said himself, "I'm super excited for this. The league has been marketed very well on social media, it has a good group of guys involved and overall it is a professional football opportunity." A professional football opportunity, the first of Jamiel's career and one where he will have the opportunity to play with players that have played at the NFL and CFL level, like newly signed quarterback Johnny Manziel is the exact way he can get to the NFL or CFL himself. "I believe that if I do my thing in the new league, I can get a chance at a CFL contract or even a NFL contract and that is the end goal so when I get to Atlanta in January I will be sure to let everyone know who I am through the work I do on the field."
The work he does on the field sure is great work and soon the world will be able to see it at the next level when he suits up to play in the FCFL. Standing at just 5-foot-10, 175 pounds, Jamiel may not be the tallest or the biggest of players but he is a consistently reliable target and considering his size you can easily compare him to a receiver like Julian Edelman or Wes Welker. Both Wes Welker and Edelman have something in common as well, and that is that they have proven themselves at the professional stage, something that Jamiel looks to do as well. "If a team were to bring me in, they can expect a player that will give it their all. Every time I step on the field I try to be the best player I can be and on top of that I am an extremely hard worker as well as a smart receiver. I know I am not the tallest receiver on the field and I am usually the shorter one in the battle against the cornerback but I have a good football I.Q and that is something I can bring to the next level and help teams succeed."
A team bringing him in would be an absolute dream come true for Andrew Jamiel, the speedy and reliable receiver will do anything he can to help himself get there and come January 11th when Jamiel travels to Atlanta he will have the opportunity to showcase what kind of player he is in front of several professional scouts. Stay up to date with Andrew Jamiel's story and make sure to check him out when he suits up in the Fan Controlled Football League alongside other professional athletes like former NFL/CFL quarterback Johnny Manziel and where he will be coached by pop culture stars, Quavo (The Migos), Bob Menry (Instagram influencer), Donald De La Haye (UCF/TORONTO Toronto Argonauts kicker/YouTube star), Richard Sherman (NFL defensive back), Austin Eckler (NFL running back) and many more.